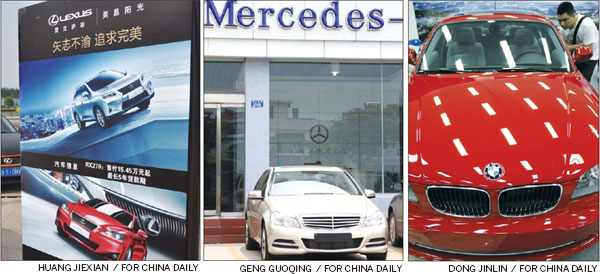 According to the annual survey by JD Power and Associates, Lexus topped rankings of individual brands for initial quality in China this year, followed by Mercedes-Benz and BMW. Korean cars were first by country of origin.
Korean cars top the list for fewest problems reported
The quality gap between domestic and international brands is narrowing with the average rate of reported problems at a record low, according to the JD Power Asia Pacific 2012 China Initial Quality Study released last week.
The study, now in its 13th year, examines problems with defects and malfunctions in new vehicles in the first two to six months of ownership.
The initial quality assessment of domestic models improved significantly this year following a higher number of owner-reported problems in 2011.
Problems in Chinese brand cars fell to 212 per 100 units this year compared with 232 in 2011. International brands also improved, with owners reporting to 117 problems per 100 cars, down from 131 last year.
"Domestic brands outpaced the industry quality improvement in 2012," said Mei Songlin, vice-president and managing director of JD Power China Operations.
"We are seeing remarkable improvements, particularly in ease of shifting gears with manual transmissions, fewer problems with brakes and improved fuel efficiency," Mei added.
"Yet despite the milestone for Chinese brands as a whole, no domestic nameplate exceeds the industry average in initial quality. This signals significant room for improvement," he added.
"The automotive industry in China continues to lag behind mature markets in initial quality," said Tony Zhou, automotive research director at JD Power China Operations.
The study said overall initial quality across the industry was largely driven by improvements in Korean and Chinese brands.
Korean brands had the fewest initial quality problems, some 93 per 100 units, down from 124 in 2011.
In contrast, Japanese brands - ranked second behind Korean brands in initial quality - had more problems than in 2011, rising from 108 to 113.
The industry-wide improvement in initial quality is also due to the growing trend of owners buying more expensive models, which consistently have fewer initial quality issues.
The market share of the SUV and luxury segments have increased by 4 percent and 3 percent from 2011, according to LMC Automotive, JD Power's strategic partner in automotive information and forecasting.
Excessive fuel consumption has remained the most frequently reported problem since 2007. Engine power loss associated with air conditioning is one of the most frequently reported problems this year.
The study also shows that new vehicle owners in China tend to be particularly sensitive to noise problems, with brake, wind, engine and fan noises accounting for four of the top 10 most commonly reported problems.
Maintaining high initial quality is crucial to both retaining existing customers and attracting new buyers, said the report.
The JD Power Asia Pacific 2012 China Sales Satisfaction Index Study found that 36 percent of owners who had a problem-free experience with their vehicles "definitely will" recommend the brand to others, while 18 percent indicate they will repurchase the brand.
In contrast, among owners who experience more than one problem with their vehicles,the rates of those who say they will recommend and repurchase decline to 27 percent and 13 percent, respectively.
"It is important for automakers to focus on defects and malfunctions, but improving design quality to make vehicles more user-friendly may also help reduce the number of problems owners experience," said Zhou.
Lexus is the highest-ranked nameplate in the study for initial quality, followed by Mercedes-Benz, BMW and Audi. Dongfeng Honda ranks fifth overall.
xuxiao@chinadaily.com.cn
(China Daily 11/05/2012 page19)