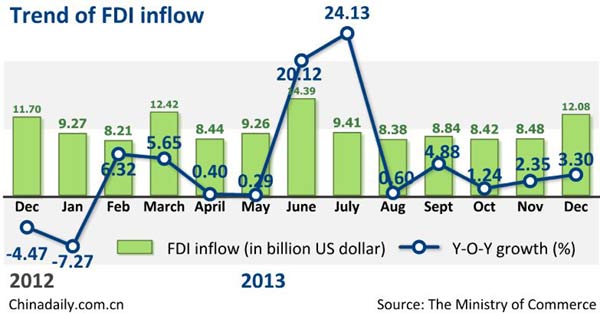 BEIJING - Foreign direct investment (FDI) in the Chinese mainland increased 5.25 percent year on year in 2013 to reach $117.59 billion, the Ministry of Commerce said Thursday.
The growth came as a change from the annual 3.7 percent decline registered in 2012, when the country's economic slowdown worried global investors.
In December alone, the country's FDI inflow rose 3.3 percent from a year earlier to $12.08 billion, the ministry's spokesman Shen Danyang said at a press conference.
Shen said FDI in the country's service sector gained 14.15 percent in 2013 to reach $61.45 billion, or 52.3 percent of the total. FDI in the manufacturing sector dropped 6.78 percent to $45.56 billion.
The ministry data showed FDI from the United States expanded 7.13 percent from one year earlier to $3.35 billion last year, while that from the European Union was up 18.07 percent to $7.21 billion.
However, FDI from Japan fell 4.28 percent to $7.06 billion, while the Chinese mainland's investment in Japan's non-financial sector plunged 23.5 percent last year.
The country's total investment in overseas non-financial sectors increased 16.8 percent year on year to $90.17 billion last year, the ministry said.