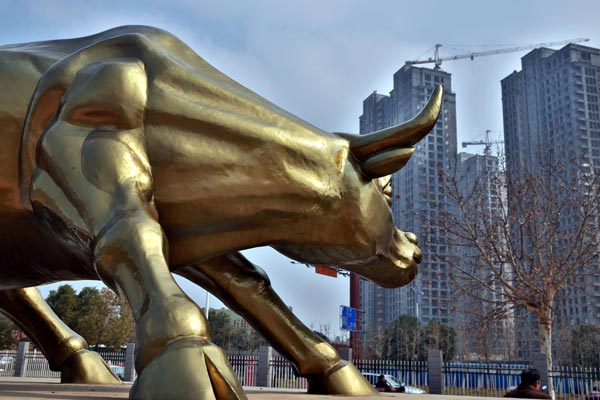 Shanghai's office and retail property sectors will see significant increases in large-scale deals this year, supported by investors' strong interest in commercial real estate, according to a research report from international property consultant Knight Frank. [Photo/China Daily]
Number of deals expected to rise this year in the commercial sector: Experts
China may see an increase in property transactions involving international investors in 2013, fueled by the economic recovery and the rosy outlook of China's commercial properties, industry experts said.
"On one hand, a number of deals are in the pipeline after lots of negotiations were conducted last year. On the other hand, the top management of international real estate funds are also under pressure because few deals were concluded last year," said Andy Zhang, managing director of Cushman & Wakefield China.
Shanghai's office and retail property sectors will see significant increases in large-scale deals this year, supported by investors' strong interest in commercial real estate, according to a research report from international property consultant Knight Frank.
New opportunities
China, and Shanghai in particular, are still a focus for multinational companies mulling expansion and new business opportunities so demand for commercial and residential property will remain buoyant, according to Regina Yang, director of research for Knight Frank Shanghai.
Average Grade A office rents in Shanghai have dropped 1.5 percent quarter-on-quarter by 9.1 yuan ($1.46) per square meter per day, decreasing for the first time since the third quarter of 2009.
However, owing to limited new supply, the average vacancy rate of Shanghai's Grade A offices remained at 5.1 percent.
Despite the overseas economic turmoil and China's slowing economic growth, retailers' confidence in the market is intact and they continue to open new stores in Shanghai.
Ground-floor rents in core retail areas have reached 54.7 yuan per sq m per day, an increase of 1.7 percent quarter-on-quarter and 11.6 percent year-on-year.
MGPA, a private equity real estate investment advisory company managing assets in Europe and Asia, announced that it has successfully acquired a newly completed Grade A office building called j-Tower in Shanghai for 263.5 million yuan ($41.8 million).
The deal was concluded by MGPA Asia Fund III which focuses on real estate investments throughout the Asia-Pacific region and features equity commitments of $3.9 billion. Its portfolio in China includes a 50 percent interest in Galleria Chengdu, a high quality retail mall in Chengdu.
"This is a good opportunity to buy a quality commercial property in Shanghai. We anticipate strong leasing interest from both domestic and foreign firms looking for quality and convenience," said John Saunders, chief executive officer of Asia, MGPA.
j-Tower marks the second deal in China for MGPA Asia Fund III following the acquisition of a retail mall in Chengdu in 2011.
"China continues to be an important focus for MGPA and we look favorably on investment in retail/commercial properties in tier one and tier two cities," said Saunders.
According to the real estate fund LaSalle Investment Management, the best opportunities in China's mainland real estate this year include warehouses, offices, hotels, retail and mixed-use developments.