Cutting-edge achievements revealed at WIC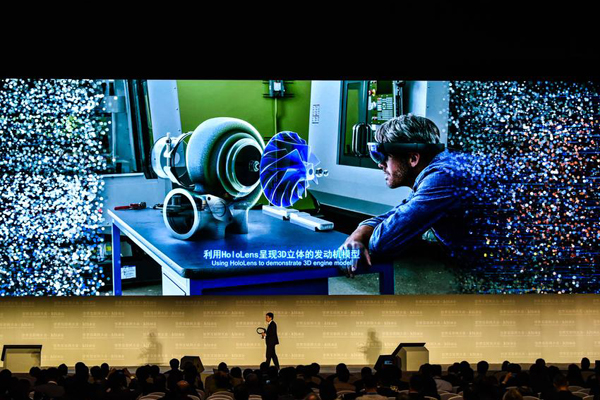 A representative of Microsoft introduces HoloLens technology during a release ceremony of world leading internet scientific and technological achievements at the 3rd World Internet Conference in Wuzhen, East China's Zhejiang province, Nov 16, 2016. [Photo/Xinhua]
Tech aficionados were offered a peep into the future at the 3rd World Internet Conference in China as 15 state-of-the-art achievements were unveiled at the event dubbed the Oscar by the industry.
The "world's leading internet scientific and technological achievements" were selected from a pool of about 500 entries and vetted by 33 experts worldwide. The winners were announced in Wuzhen, East China's Zhejiang province, on Wednesday.
The creations, developed by domestic and foreign technology companies and institutions such as Alibaba, Baidu, IBM and Microsoft, mainly focus on artificial intelligence (AI), cyber security, self-driving vehicles and virtual reality.
"The selection process was hard for us because the technology develops very fast, and there were too many achievements," said Ni Guangnan, a member of the Chinese Academy of Sciences. "The 15 chosen will have the widest implications on our lives."
During the ceremony, the audience was floored by Tesla's Autopilot 2.0, which can steer and park itself. The new model boasts eight cameras, 12 ultra-sound detectors and radar on the front to enable a 360-degree sight and a detection distance range of 250 meters.
IBM Watson 2016 is also among the avant-garde selections. It is an expert AI system based on cognitive technology that could read a patient's data to figure out the optimal treatment plan.
Microsoft introduced HoloLens, a pair of glasses that enable its wearers to engage with digital content and interact with holograms in the physical world.
Among the Chinese winners is search engine Baidu's AI creation Baidu Brain.
According to its creator, the Brain is composed of advanced algorithms and super computing power, built on super-large-scale neural networks. It covers fields including voice recognition and synthesis, image recognition, natural language processing and user profiling.
China's e-commerce giant Alibaba was also marked for its payment unit which handled more than 120 billion yuan ($17.8 billion) in the 24 hours of this year's Singles Day online shopping carnival.
According to Xinhua, optic fiber specialist Wu Hequan, who chaired the recommendation committee, said the release has played a leading role in internet industry by creating opportunities for international cooperation and exploring path for future development."
The ultimate goal is to create an industry driven by innovation and benefit the mankind, he added.
Wu admitted that compared with the West, China started late in digital technology research, but recent progress has been impressive.
President Xi Jinping said at the B20 summit this September what the country must do now is to "make China an innovative country and a leader in science and technology".
China has over 700 million internet users and it's home to some of the world's leading tech companies, particularly in the fields of mobile technology, biotechnology and medical services. Expecting to drain strength for future growth from new technologies, new ideas and new business models, China has carried out a series of measures to encourage innovation.
According to a global survey by Cornell University, INSEAD, and the World Intellectual Property Organization, China is now of the world's 25 most innovative economies.
It moved up four places from the 2015 survey to 25th overall, making it the first middle-income economy to break into the top 25, an area traditionally dominated by highly developed economies.
The WIC is an annual meet of the world's tech firm bosses, academics, and government officials to discuss current Internet trends. The 3rd WIC runs from Nov 16 to Nov 18 this year.
This is the first time for the WIC to host such a release, which is an effort by the organizers to promote the event as a premium platform for tech firms to display their latest achievements.
"It is very inspiring to see so many outstanding achievements," said Xu Yu, director of the Information Development Bureau of the Cyberspace Administration of China. "The next step will be a competition of core technology, fundamental research and the craftsmanship of the products."