UN re-enlists first lady in battle against AIDS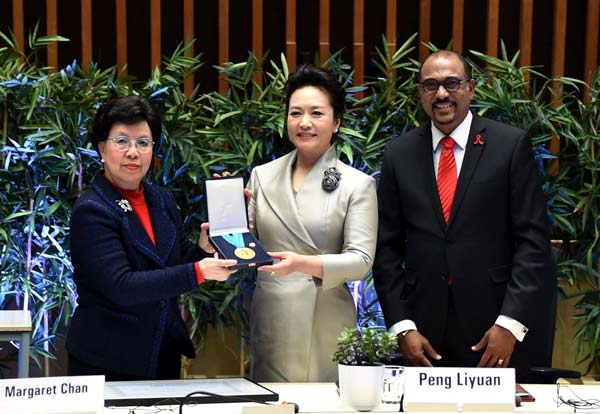 WHO Director-General Margaret Chan (left) presents a medal for outstanding service to first lady Peng Liyuan as UNAIDS Executive Director Michel Sidibe looks on. [Photo/Xinhua]
The World Health Organization renewed its appointment of first lady Peng Liyuan as goodwill ambassador for HIV/AIDS and tuberculosis on Wednesday.
Peng was first appointed an HIV/AIDS ambassador by the Ministry of Health in 2006, and her role went global in June 2011 when she was first appointed WHO goodwill ambassador.
"The past 11 years have made me realize that love is our best vaccine for fighting diseases," Peng said at a Geneva ceremony hosted by the WHO to extend her service and recognize her work.
Peng was invited to the ceremony by WHO Director-General Margaret Chan and UNAIDS Executive Director Michel Sidibe.
Chan presented Peng a medal, and Sidibe presented a certificate and trophy for outstanding achievement in promoting prevention and treatment of HIV/AIDS.
The first lady noted that the Chinese government attaches great importance to the prevention and control of HIV/AIDS and tuberculosis.
It offers free HIV testing and consultations and, for pregnant women who test positive, free medications and therapies to prevent mother-to-child transmission of the virus, she noted.
"Such policies have yielded remarkable achievements, and the number of people who have died or suffered from discrimination because of such diseases has consistently decreased," Peng said.
Because China has made profound progress in HIV/AIDS prevention, the award was presented to both the first lady and the government, said Mamadi Diakite of the UNAIDS office of security and humanitarian affairs.
Experts noted that Peng has made a real difference, adding a personal touch to her role as a UN goodwill ambassador. Her ability to educate and reach out to people has been an effective way to combat HIV and tuberculosis, they said.
Working with government departments as well as NGOs, she has raised funds for children's education and medical treatment.
She also has been praised for visiting with those who are most affected by illness.
In March 2013, Peng met children with AIDS during a visit to the Republic of Congo, where she hugged a baby who had tested positive for HIV, helping to dispel fears of transmission through casual contact. She also donated computers, toys and bags to the children there.
In March 2016, Peng visited migrant construction workers in the suburban Tongzhou district of Beijing and provided information on how they could prevent the spread of tuberculosis.
Contact the writers at anbaijie@chinadaily.com.cn and zhangyunbi@chinadaily.com.cn