ERG to cash in on B&R Initiative
A major multinational natural resources company is working closely with Chinese partners to expand its business linked to the Belt and Road Initiative.
The Eurasian Resources Group operates in 14 countries across the world and is involved in mining projects, processing, energy operations and logistics.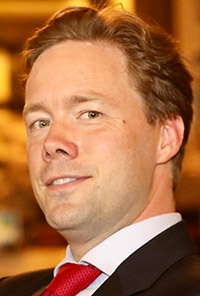 Benedikt Sobotka, chief executive officer of Eurasian Resources.  [Photo provided to China Daily]
Backed by the Kazakh government, ERG has benefited from the Belt and Road Initiative, which connects Asia, Africa and Europe to a modern version of the ancient Silk Road.
"We are delighted with the opportunities that have arisen because of this global initiative," said Benedikt Sobotka, chief executive officer of Eurasian Resources. "It has helped us in our operational portfolios in Kazakhstan and Africa."
One key project involves a cobalt mining operation in the Democratic Republic of Congo in Central Africa.
The chemical element is a vital component for batteries that are made in China, so ERG will work side-by-side with its mainland partners.
"This cobalt operation will be one of the largest," Sobotka said. "It's not just a big project, it is also critical for China.
"The country has a very ambitious plan to electrify its transportation and to invest in the Fourth Industrial Revolution," Sobotka added.
Production will start at the end of next year and most of the colbalt mined will be exported to China, one of the leading markets in the world for electric vehicles.
The world's second biggest economy accounts for 30 percent of ERG's business, which includes high-quality chrome for consumer goods, copper and, of course, colbalt.
"China is our largest market for steel, while the majority of our copper and cobalt also goes to the country," Sobotka said.
ERG, which has its headquarters in Luxembourg while its major share-holder is the Kazakh government, has worked alongside a number of Chinese partners on high-priority projects.
The group has secured more than $2.5 billion in financing from Chinese banks in the past two years for new projects in Africa and Kazakhstan.
"Our Chinese partners tend to include large State-owned enterprises in construction or in engineering technology and design," Sobotka said.
Wu Xiaobo contributed to the story.