Bike-sharing firm to break even this year
Dai Wei, founder of Ofo Inc, expects the bike-sharing company to break even this year and make a profit in 2018.
Rolled out three years ago, Ofo now operates in 120 cities in China, the United States, Singapore, Britain and Kazakhstan, and plans to have 20 million bikes on the streets by the end of 2017.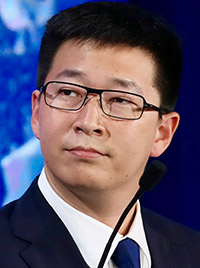 Dai Wei, founder of Ofo inc. [Photo provided to China Daily]
"We are profitable in more than two cities at the moment," Dai, who is also chief executive officer of the company, said in an exclusive interview with China Daily on the sidelines of Summer Davos in Dalian.
While he declined to discuss detailed financial figures and name the cities producing profits, Dai painted a rosy overall picture.
"Ofo's daily revenue has increased to around 20 million yuan ($2.9 million) from 10 million yuan early this year," he said. "And it still keeps growing at a fast speed.
"In addition, Ofo's next round of financing will be announced soon," he added.
Back in March, it raised $450 million which made it the only bike-sharing business in the world to be classified as a "unicorn", or a startup company valued at more $1 billion, by CB Insight, a global research firm based in New York.
But two months later, main rival Mobike Technology Co changed the game again when it raised more than $600 million in its latest round of financing. This was the biggest single investment for a company in the bike-sharing sector.
During the past two years, more than 30 startups have appeared on the scene, but Ofo and Mobike dominate the fledgling industry, which allows customers to rent bicycles on major city streets.
While they continue to expand, Wukong Bicycle in Chongqing became the first operator in the sector to go bankrupt earlier this month.
"It is hard to predict how many companies can survive," Dai said. "It is all about the customer's experience and this relies on technological breakthroughs and optimizing bicycle production."
As for Ofo, Dai denied speculation of a merger with Mobike or plans to buy one of the smaller bike-sharing companies to expand market share.
"There is no such plan," he said bluntly. "For the bike-sharing sector, merging or acquiring companies is not the best solution.
"I believe a company has to develop on its own with long-term profitability and sustainable development," Dai added.
Part of that blueprint included the decision announced earlier this month by Ofo to use the NarrowBand internet of things, or NB-IoT, for its smart bicycle locks.
This allows the company to track its bikes, when it comes to maintenance problems, and makes it easier for customers to pay for them through their mobiles.
Another move toward "sustainable" growth is to expand into 200 Chinese cities and look for more overseas opportunities.
Already Dai has branched out into foreign markets that are part of the Belt and Road Initiative, which connects Asia, the Middle East and Europe to a modern version of the ancient Silk Road.
Video editor: Huang Zeyuan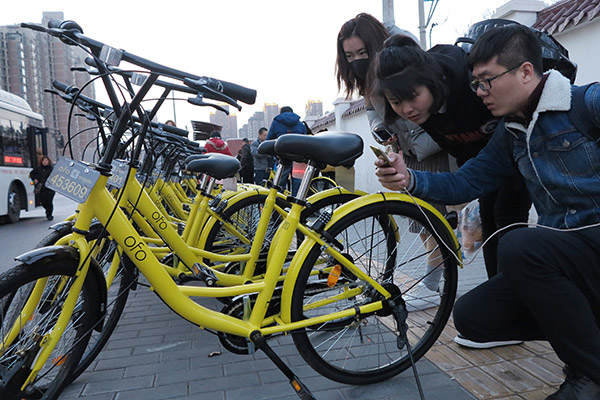 Riders scan ofo bikes in Xi'an, Shaanxi province. [Photo/China Daily]