Yachts float toward masses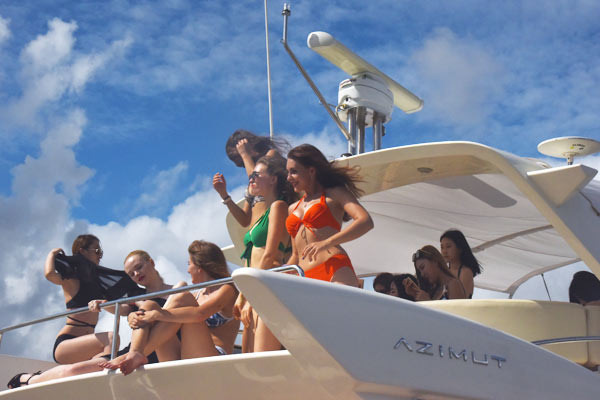 Models sunbathe on the deck of a recreational a yacht show in 2015 in Sanya, Hainan province. [Photo provided to China Daily]
Sales of yachts are down due to slowing economic growth and the government's austerity policies, but yacht clubs have found a new way to generate income: boat rentals.
According to Yang Xinfa, deputy secretary-general of the China Association of the National Shipbuilding Industry, the yacht industry has been undergoing a sharp decline in the past five years.
Up to 75 percent of Chinese yacht companies are fulfilling fewer orders and fewer people are visiting boat shows.
"Boat rental is probably the key to solve the current deadlock," said Yang. And the central government shares a similar view on this.
During an executive meeting of the State Council in October 2016, Premier Li Keqiang reiterated the importance of expanding domestic consumption in various business segments. With regard to the shipbuilding industry's segments, he said yacht rentals could be one way to ensure domestic consumption increases.
Actually, there are some industry pioneers who have already tested the waters. Fujian Yihong Yacht Co Ltd, the first company of its kind to be listed on the National Equities Exchange and Quotations in February 2016, launched its boating experience project in partnership with online travel agency Lvmama in Shanghai, Sanya and Xiamen in May 2016. Priced only 328 yuan ($47) per person, the experience is aimed at the mass market.
According to Fan Liwei, director of Yihong, the Chinese yacht market will hit 40 billion yuan annually for the next 10 years. Most of that-roughly 35 billion-will be accounted for by cheaper boats that cater to the general public. This is the major reason that Yihong is exploring the rental market, said Fan.
Lizhi Wisdom Club, formerly known as Bahrfuss Yachting Sales Co Ltd, has a history of more than 16 years in Shanghai. The company's boat rental business has grown steadily over the years. By the end of 2016, the boat rental business has generated one-third of the company's annual income.
Rental charges are fixed according to the size of the boat and range from 4,000 yuan to 12,000 yuan an hour. A 55-feet (16.76-meter) yacht that can accommodate 10 people, for example, costs 8,000 yuan an hour in the off-peak time and 10,000 yuan during peak hours.
According to Lu Xiaoya, sales director of Lizhi Wisdom, most of the clients rent the boats to entertain business partners. A growing number of the clients have also rented the boats for marriage proposals, baby showers and parties.
"The boat rental business can help us find more potential clients. In the past, our boats were mainly used for going out to sea. But now we have added more Chinese characteristics such as karaoke and banquets, which Chinese clients prefer. They therefore use the boats more frequently and become members later," she said.
As a major domestic yacht builder, Shanghai Double Happiness Yacht Co Ltd started its boat rental business in 2013. Currently this part of business is still in an embryonic stage as General Manager Zhou Juan has some concerns about the lack of regulations surrounding boat rentals.
She said: "In mature markets, yachts are categorized as either private or commercial. Shipbuilders have to build boats based on different requirements. In China, all the regulations are made for privately owned boats. There are still no laws for commercial-use yachts.
"But in the long run, yachts will be inevitably attractive to more customers, especially in first-tier cities."