Home / Business / Biz Photos
CES on the go: new gadgets to strive for new connectivity
New gadgets shown at this year's International Consumer Electronics Show (CES) will continually demonstrate improvements that have engaged in bringing new connectivity into our daily lives.
"2016 was an important year of transition -- with potentially game-changing products, including VR headsets and digital assistant devices, gaining steam within mass consumer markets. I expect 2017 to be a year where many of these emerging tech categories find their footing and really take off," said Shawn DuBravac, chief economist of the Consumer Technology Association (CTA) of the United States.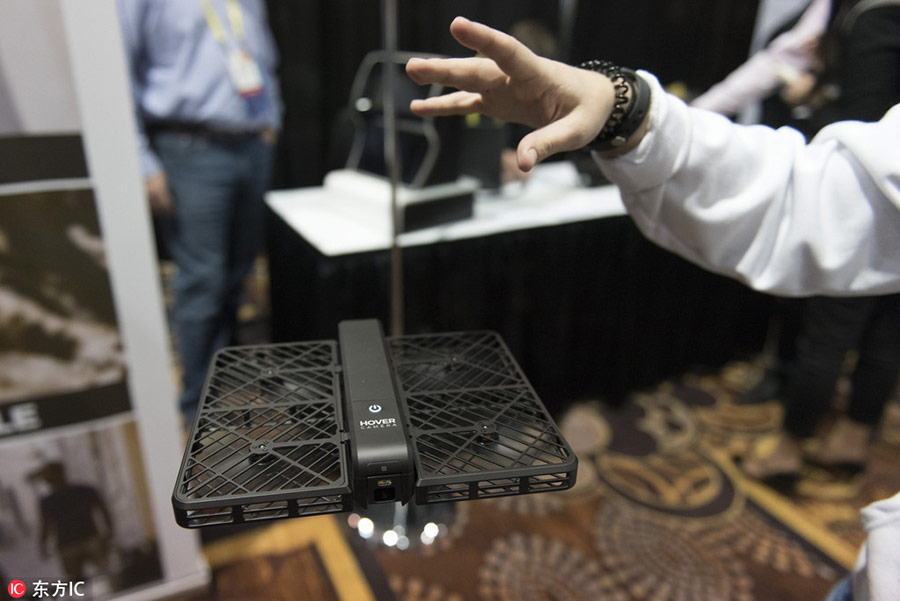 The Hover Camera Passport drone in flight at the CES consumer technology show in Las Vegas, Jan 3, 2017. The drone recognises faces and can automatically follow the user and take record videos. [Photo/IC]
Examples of digital assistant devices, smart wearables, virtual reality (VR) and augmented reality (AR) goggles to autonomous driving, will all be gathered under one roof to present a future living experience, according to CTA, the organizer of the show.
Incomplete statistics from Nanfang Daily read: "among the overall 4,200+ exhibitors of the CES 2017, 1,314 are from China."
Domestic companies, including Baidu Intelligent Systems, Suning and Xiaomi, have joined the group with the other 850+ new comers to participate for the first time.
The event is scheduled to kick off on Thursday.
Let's take a look at some of the highlights that have been showcased so far.