Nestle to source more coffee from Yunnan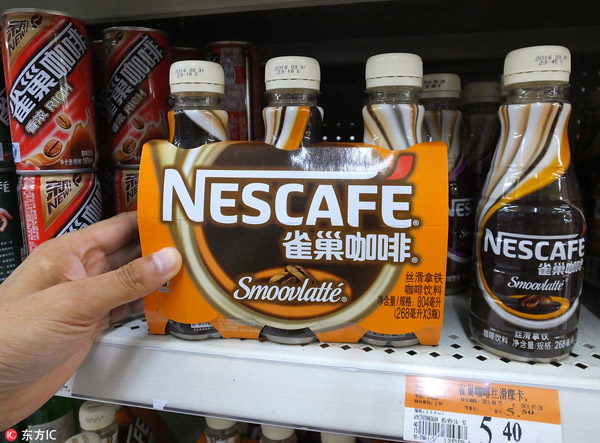 A customer selects Nestle's coffee products in Yichang, Central China's Hubei province, June 23, 2016. [Photo/IC]
KUNMING - Nestle will buy 13,500 tons of coffee beans from south China's Yunnan province this year as the global food giant seeks to develop ties with the coffee-growing region.
The annual purchase volume has posted increases for years.
Dong Yuguo, vice president of Nestle China, said Nestle was going to increase its presence in China to make the most of the country's huge market potential.
Meanwhile, Nestle's research and development center in Tours has offered better coffee strains for local farmers to grow.
Yunnan accounts for over 99 percent of China's coffee plantations and production, with a planting area of 120,000 hectares and an output of over 130,000 tons.
Nestle first established coffee-related projects and model farms in the province in 1988. Since then, it has trained 16,000 coffee farmers in Yunnan, benefiting 13,300 hectares of coffee-planting area.
Wouter De Smet, manager of Nestle Coffee Agriculture Service, said Nestle wants to help locals produce high-quality coffee beans through better strains of bean and more advanced cultivation techniques.
In March, Nestle opened its first coffee center in Pu'er, Yunnan, to train local farmers and boost coffee consumption in a nation of tea lovers.
The center is the largest training base in China for coffee farmers, agronomists and business professionals. It has a quality assurance coffee lab and an integrated handling and storage facility.
Lu Han, head of Pu'er municipal coffee and tea development bureau, said apart from Nestle, other big brands, Starbucks and Volcafe have also set up joint ventures in Pu'er, while Maxwell, Ecom and Louis Dreyfus have established purchasing centers.