Singles Day goes global as cross-border buys rise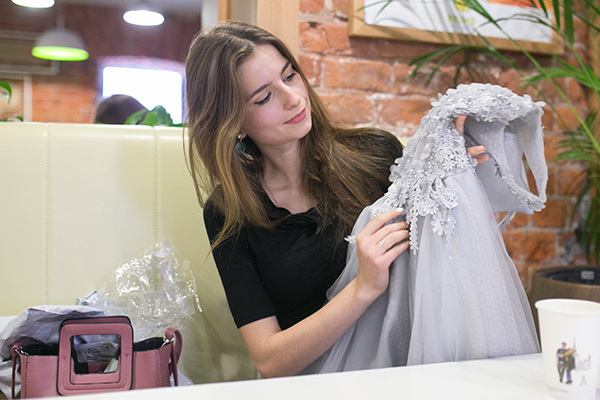 A Russian woman receives a skirt from a Chinese e-commerce platform, Moscow, Nov 3, 2016. [Photo/Xinhua]
Alipay, China's largest online payment service provider, saw a surge in the number of cross-border payment transactions processed on the Singles Day shopping festival, as the Chinese online shopping extravaganza gains global influence.
Alipay, which is operated by Ant Financial Services Group, said on Saturday that the number of cross-border payment transactions it processed on Singles Day jumped 60 percent compared with the same day last year, fueled by the trend of "buy globally and sell globally".
Consumers in 224 countries and regions used Alipay to pay for the online purchases they bought on Singles Day. Billionaire Jack Ma has been going all the way to make the event a global shopping festival since 2015.
Eric Jing, chief executive officer of Ant Financial, said in a statement that by leveraging the opportunity of the Nov 11 online shopping festival, his company and its partnered financial institutions across the world can provide better finance services based on the demands of consumers and retailers in the digital era.
The Singles Day shopping festival, which was established by e-commerce giant Alibaba Group Holding Ltd on Nov 11, 2009, has become the world's largest online shopping festival in terms of the gross merchandise volume sold during the 24-hour sale.
It set a record this year with people spending a staggering 120.7 billion yuan ($17.67 billion) to shop on Alibaba's platforms on Nov 11, up 32 percent year-on-year.
The spending frenzy has also promoted the advancement of online payment technology, with the number of payments settled per second by Alipay totaling 120,000 at its peak, according to Ant Financial.
Lu Zhenwang, an independent internet analyst based in Shanghai, said that one of the main reasons that the Singles Day shopping festival still saw solid growth after entering its eighth year is because a much wider selection of brands jumped on board to participate in the event.
"This year we have seen many first-time participants, such as Apple Inc, which used to be reluctant to join this kind of sale. The participation of big brands not only offers shoppers more choice, but also attracts them to buy big-ticket items," he said.
As many as 235 countries and regions completed cross-border transactions during the festival, with thousands of international brands participating.
Statistics from Alipay showed that shoppers in Russia accounted for 48 percent of the cross-border transaction volume processed by Alipay, followed by Spain's 8 percent and Ukraine's 5.5 percent.