Siemens plans to spin off health unit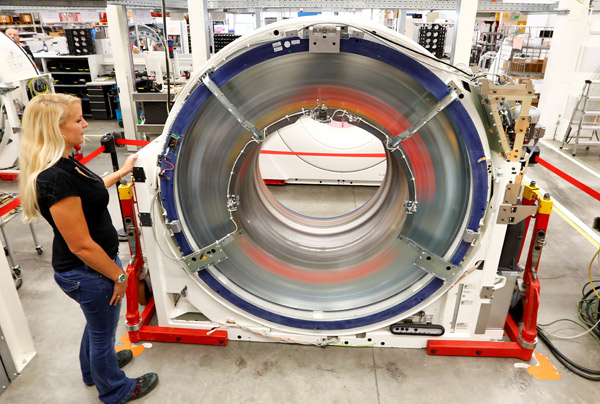 An employee watches a rotating Computed Tomography "CAT scan" at a Siemens plant in Forchheim, Germany. REUTERS
Siemens AG announced plans to spin off its $15 billion healthcare division to help drive investments at one of its most successful units, in one of the biggest portfolio revamps at the German engineering giant that narrows its focus on energy, transport and factory gear.
The company is pursuing a public listing of the asset, with details on the planned scope and timing to follow, Siemens said on Thursday as it announced earnings. Profit from so-called industrial operations reached 2.45 billion euros ($2.68 billion) in the three months through September, little changed from the year-earlier period. Analysts had predicted an average of 2.41 billion euros.
"Healthcare is one of the most attractive business, if not the most attractive we have in the company," Chief Executive Officer Joe Kaeser said in an interview with Bloomberg TV. "We believe we want to focus it more."
Siemens is betting that its healthcare unit can capture growth better as a stand-alone business, though the company would seek to retain control of the asset, according to Chief Financial Officer Ralf Thomas.
Kaeser has been shifting the company toward its energy divisions, which include its wind-turbine business, and the CEO said he doesn't expect any demand swings in that field from Donald Trump's ascent to the White House.
The plan to list its healthcare unit further whittles down the company's sprawling portfolio, which includes high-speed trains, wind turbines and medical scanners. Over the past decade, Siemens has largely retreated from consumer-oriented products and focused on industrial applications, selling areas like phones, light bulbs and hearing aids. Among Siemens's biggest recent divestments was the Osram lighting unit, though Thomas said it would be "wrong to compare" the asset with healthcare.
Sales in the fourth quarter rose 3 percent to 21.95 billion euros, while orders slipped 14 percent after the company took in some large orders in the year-earlier period.
Bloomberg