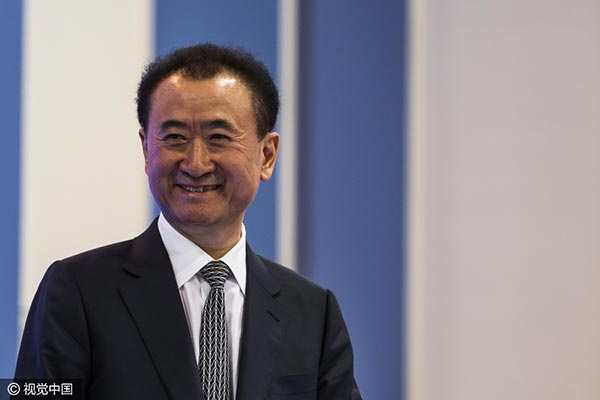 Wang Jianlin, chairman and president of Dalian Wanda Group, attends the Hong Kong Asian Financial Forum (AFF) in Hong Kong, China, on Monday, Jan 18, 2016. [Photo/VCG]
Property tycoon Wang Jianlin topped the ranking of China's richest people for a third consecutive year, defending his spot against those with experience, like Jack Ma, founder of e-commerce giant Alibaba Group, and newcomers such as Yao Zhenhua, chairman of the financial conglomerate Baoneng Group.
The 62-year-old Wang, chairman of Dalian Wanda Group, and his family collected wealth totaling 215 billion yuan ($32 billion), followed by Ma, 52, whose family wealth surged by 41 percent from a year earlier to 205 billion yuan, according to the annual Hurun Rich List.
Several dark horses made the list in spite of little change at the top. Among them, the most impressive was the 46-year-old Yao, whose fortune increased to 115 billion yuan-nine times the amount of the previous year. Yao made headlines this year with a hostile takeover battle for leading real estate developer China Vanke Co.
Hurun Chairman Rupert Hoogewerf said Yao's financial investment model represents a new wave of "wealth creation" in China, according to media reports.
"The first money made in China 20 years ago came from trading, followed by manufacturing, real estate and IT," he said. "Today it is about using the capital markets for financial investments."
A growing number of young entrepreneurs joined the list this year. Among the total of 2,056 richest people, 68 were born in the 1980s or later, rising from 56 last year. Of the young rich, 21 are self-made and mainly from the information technology industry.
Last year, one new Asian entrepreneur joined the billionaire ranks every three days, thanks to China's accelerated economic evolution, which is creating ideal conditions for young entrepreneurs to get rich quickly, according to another report on Thursday.
The report, jointly released by UBS AG and PricewaterhouseCoopers, said that 113 Asian entrepreneurs, 54 percent of the global total, attained billionaire status last year. Eighty of them are from China, and the average age is 53.
China's billionaire population surged in the past two years, up from 35 percent of Asian's new billionaires in 2009 to 69 percent in 2014 and 71 percent last year.
Almost half of these came from three sectors: technology (19 percent), consumer and retail (15 percent) and real estate (15 percent). Additionally, e-commerce businesses are rising, the report said.
Jiang Xueqing and Wang Zhuoqiong contributed to this story.