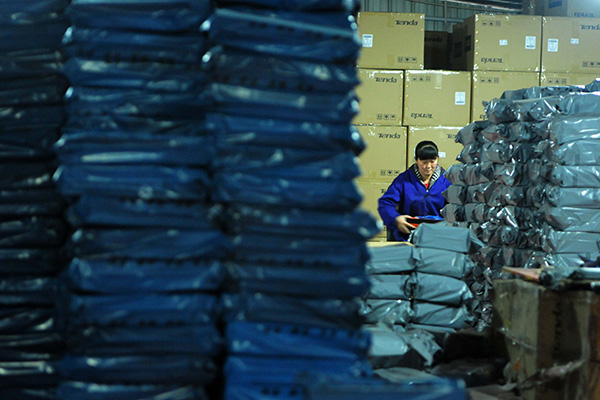 An express delivery firm prepares for the busiest season of the year, Jiujiang city, Jiangxi province, Nov 8, 2015. [Photo/China Daily]
Chinese consumers are likely to shrug off the slowing economy as the number of parcels delivered is estimated to rise 35 percent year-on-year in the upcoming Nov 11 shopping festival, the annual biggest online sale event in China.
Cainiao, Alibaba Group Holding Ltd's logistics offshoot, said on Thursday that more than 1.05 billion parcels are estimated to be delivered to shoppers after the shopping spree on November 11.
The online festival, which was first created by e-commerce giant Alibaba in 2009, has become a national celebration for online shopping with many retailers having sales to attract consumers and has become a gauge of China's consumption power.
In the 24 hour sales held by Tmall, an Alibaba platform, last year, as much as 91.2 billion yuan ($13.6 billion) worth of goods were sold online, leading to a total of 467 million delivery orders.
To better cope with the rising delivery demand from the Nov 11 festival, Cainiao and other couriers are expected to have 2.68 million deliverymen on standby, a jump of 50 percent year-on-year. The delivery fleet is expected to be boosted by nearly 60 percent compared with last year's and more planes will be involved to transport more than 40 percent of goods by air compared with last year.