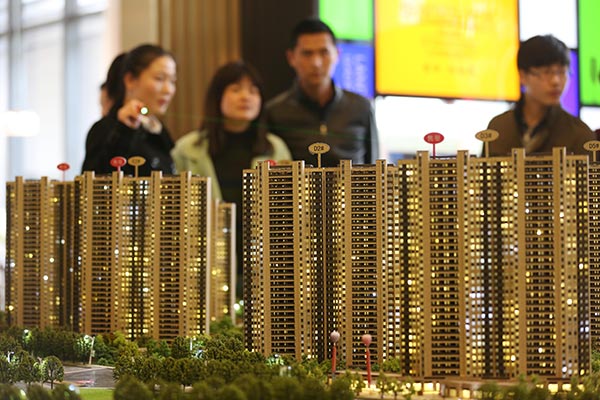 Potential homebuyers examine a property project model in Nanjing, East China's Jiangsu province, Feb 28, 2016.[Photo/VCG]
BEIJING - China's property sector saw growth accelerate in August, official data showed Monday, as more local governments rolled out tightening measures to curb speculation.
Of 70 large- and medium-sized cities surveyed in August, 64 reported new home price climbs month on month, up from 51 in July and 55 in June, the National Bureau of Statistics (NBS) said.
Meanwhile, four cities reported month-on-month price declines, down from 16 in July and 10 in June, according to the NBS data.
For existing homes, 57 cities reported month-on-month price increases in August and nine reported lower prices, compared with 51 and 12 in July.
On a yearly basis, 62 cities posted new-home price increases and six reported falls in August, compared with 58 and 11 in July.
Home prices grew faster across the board in both month-on-month and year-on-year terms, said NBS senior statistician Liu Jianwei.
The acceleration came as excessive monetary supply led to strong investment demand and buyers looked to profit from further price increases in future, said Zhang Dawei, an analyst with Centaline Property.
According to a central bank survey released Sunday, 16.3 percent of Chinese residents were "ready to buy homes" in the coming three months, up 1.3 percentage points from a quarter earlier.
The housing market started to recover in the second half of 2015 after cooling for more than a year, boosted by pro-growth policies, which included interest rate cuts and lower deposit requirements.
The sector's recovery, however, has been uneven from city to city, with economically-strong areas reporting drastic price rises, and less developed areas still reporting huge inventories of unsold houses.
The contrasting picture has prompted local authorities to take different approaches: first-tier cities have tightened policies to curb speculative purchases and contain bubble risks, while third- and fourth-tier cities are exploring new ways to spur sales.
As price growth expanded from top-tier cities to more places in the past few months, three second-tier cities -- Suzhou, Xiamen and Hangzhou -- resumed home purchase restrictions, while several others raised minimum deposits.
More cities are expected to tighten policies in the future as home prices go up, said Xia Dan, a senior researcher with the Bank of Communications.
In August, 70 major cities saw their new home prices rise by 1.26 percent on average from a month earlier, accelerating from a monthly increase of 0.72 percent in July, according to the bank's calculations based on the NBS data.
On a month-on-month basis, the central city of Zhengzhou posted the fastest growth, with new home prices rising 5.6 percent, NBS data show.
On a year-on-year basis, the eastern city of Xiamen was the top performer, with home prices rising 44.3 percent, according to the NBS.
Prices in Shanghai, Shenzhen and Beijing rose 37.8 percent, 37.3 percent and 25.8 percent year on year respectively, compared with 33.1 percent, 41.4 percent and 22.7 percent in July.
The city of Jinzhou in northeastern Liaoning province saw the steepest price decline of 3.8 percent over a year earlier, flat with July.