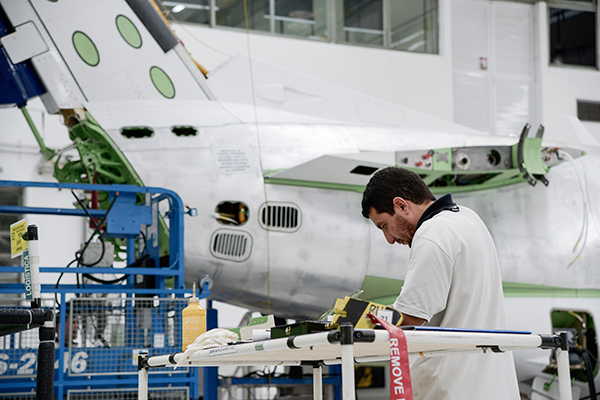 An employee works on a component for a Phenom 300 jet on the assembly line at the Embraer SA manufacturing plant in Sao Jose dos Campos, Brazil. [Photo/Agencies]
Brazil's Ibovespa equity market index rose as investors piled into local planemaker Embraer SA after it announced orders from Chinese carriers-and amid speculation that supply-chain issues at its biggest rival would benefit the Brazilian group.
Embraer advanced for the eighth straight session, putting in the longest winning streak since December 2005, in the process helping push the country's benchmark stock index to a two-year high.
Analysts and investors are now reappraising the Brazilian planemaker.
After Embraer lost more than half its market value in the first eight months of the year amid a surge in Brazil's currency-which made the country's exports less competitive-investors are now seeing value in the company, according to analyst Adeodato Volpi Netto.
"Embraer is a great and efficient manufacturer, with a very solid story," said Netto, head of capital markets at Eleven Financial Research in Sao Paulo, who recommends buying the stock and has set a target price almost 50 percent above the current level.
"It suffered exaggeratedly a couple of months ago," he added.
The planemaker announced sales agreements with China Colorful Guizhou Airlines and Colorful Yunnan on Sept 2.
Embraer and Colorful Guizhou Airlines signed a supply contract for up to five E190s. The deal comprises two firm orders and three purchase rights and has an estimated value of $249 million at list prices if all rights are exercised.
The firm order for two aircraft, to be delivered in 2017, complements an initial order placed at the 2015 Paris Air Show for seven E190s.
Embraer is also seen less affected by supplier problems than rival Bombardier Inc, so its competitor's delays may be beneficial, according to Nick Heymann, an analyst at William Blair in New York who rates the shares the equivalent of hold.
Bombardier slashed its 2016 forecast for its C Series jetliner deliveries on Tuesday because of delays in shipments of Pratt & Whitney engines.
"You're trying in essence to get a new supply chain for a new engine at the peak of the cycle," Heymann said.
"It's proven to be challenging, and Embraer is now likely to be perceived as less adversely affected than Bombardier."
Bloomberg