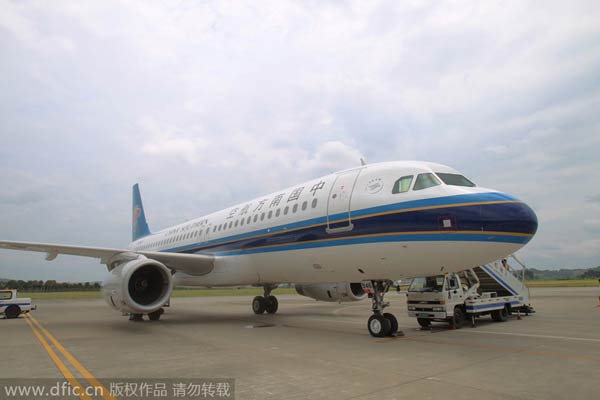 A plane of China Southern Airlines is pictured at the Zhijiang Airport in Huaihua city, Central China's Hunan province, July 17, 2013. [Photo/IC]
China Southern reports 10% decline in its net income in first half
China Southern Airlines, the country's largest carrier by passenger traffic, reported a drop in its net income in the first half of the year, citing the yuan's depreciation against the dollar.
Two of the country's largest private carriers, Hainan Airlines Co and Spring Airlines Co, the nation's largest budget airline, reported an increase in earnings with a surge in travel. Hainan Airlines reported a 4.4 percent gain in first-half profit to 1.67 billion yuan ($250 million), and Spring said its net income climbed to 740 million yuan.
Net income at China Southern fell 10 percent in the first half to 3.12 billion yuan from 3.48 billion yuan a year earlier, the airline said in a statement to the Hong Kong Stock Exchange late on Monday. Its sales rose 1.4 percent to 54.1 billion yuan.
"Chinese airlines achieved relatively good performance globally, and they performed better than airlines in Europe, Japan and the Middle East. They are second only to the US airlines, given the dollar's appreciation," said Li Xiaojin, a professor at the Civil Aviation University of China in Tianjin.
"The three major airlines (Air China, China Eastern and China Southern) account for more than 85 percent of market share. Chinese privately-owned airlines have much a smaller scale, so the booming travel demand added to the rapid growth of their revenue."
On Tuesday, shares of Shanghai-listed Spring Airlines fell by 1.96 percent, and closed at 47.08 yuan. Shares of Shanghai-listed Hainan Airlines slipped 1.76 percent, and closed at 3.35 yuan.
Meanwhile, shares of China Southern fell 6.35 percent to HK$4.72 ($0.61) in Hong Kong trading, poised for the biggest loss in almost eight months. Air China dropped 2.75 percent to HK$5.66, while China Eastern sank 4.08 percent to HK$4.
As airlines usually pay for imported commodities such as aircraft in foreign currencies, they bear a large amount of dollar debts. According to a projection by Air China, on the premise that other factors remain constant, every depreciation of the yuan by 1 percent will result in a decline of 535 million yuan in the net profits of Air China, amounting to 7.41 percent of its full-year net profit of 2015.
Bloomberg contributed to this story.