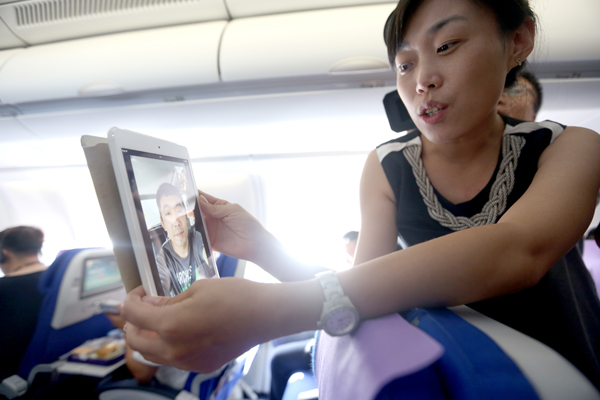 A passenger uses the Wi-Fi service on a China Eastern airliner. Liu Xin / For China Daily
Millions of fliers in China may soon see their wish come true: Authorities are considering lifting restrictions on the use of mobile phones on planes, paving the way for wider in-flight connectivity that is now available only in developed markets.
Legislation to amend regulations that limit the use of electronic devices on board is underway and the norms are expected to be relaxed by the end of this year or early 2017, said Zhu Tao, director of the air transportation division at the Civil Aviation Administration of China. The changes follow revised safety standards issued about three years ago by regulators in the United States and Europe.
The amendment, if approved, will enable passengers to surf the internet, use applications such as WeChat, and shop online at cruising altitudes with smartphones, the most preferred device for web browsing in the world's most populous nation.
For the 50-odd Chinese airlines fighting for a slice of the world's No 2 air travel market, it provides e-commerce opportunities as they tap the purchasing power of the nation's newly rich while they are airborne. The global market for in-flight e-commerce is set to reach $1.7 billion by 2020 from $1.4 billion in 2015, according to Frost & Sullivan.
China Eastern Airlines Corp and Spring Airlines Co are already preparing for it.
"From a business perspective, we definitely hope that there'll be a breakthrough in the policy review," said Zhang Chi, a deputy director at China Eastern, the nation's second-largest by passengers. "While I let passengers browse the internet for free, I can at the same time profit from advertisement and onboard shopping. There will be a big positive return."
Under Chinese civil aviation regulations, airlines at present order mobile phones to be turned off for safety reasons. However, many allow the use of other electronic devices, such as tablets, that do not interfere with flight radio signals.
Such rules are changing across the world, partly because of advancements in technology and users' preference for the convenience of smartphones. As of June, 656 million users in China, or 92.5 percent of all internet users, use mobile phones to browse the web, according to a report published by the China Internet Network Information Center in July.
Though many Chinese carriers provide in-flight Wi-Fi service for a limited number of fliers on some of their planes, it isn't widely available yet. A report by Routehappy, a company that tracks airline amenities, shows that 78 percent of airlines in the US provide some sort of connectivity. That compares with 23 percent in China, according to a local aviation statistic company VariFlight.
Bloomberg