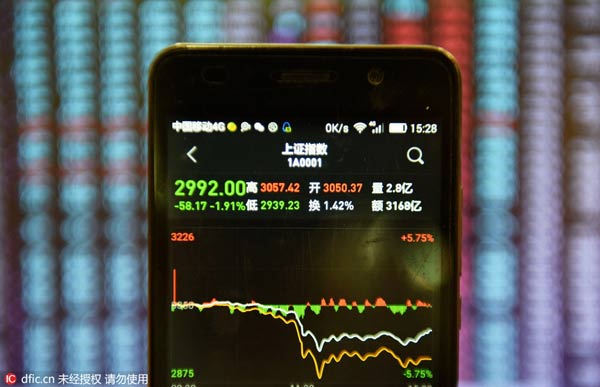 A smartphone showing the Shanghai Composite Index at the close is pictured at a stock brokerage house in Hangzhou city, East China's Zhejiang province, July 27, 2016. [Photo/IC]
SHANGHAI - China stocks closed sharply lower on Wednesday, with major indexes posting their worst daily performance in six weeks, as investors sold off on worries that regulatory changes are coming.
The selloff was led by small caps, with the Chinext Growth Index, which mostly tracks smaller tech firms in Shenzhen, correcting nearly 6 percent, but blue chip financials also fell, as did a few clusters of hot concept stocks such as technology shares and carbon-related shares that had seen sharp runups in recent days.
The CSI300 index of the largest listed companies in Shanghai and Shenzhen fell 1.6 percent to 3,218.24 points, while the Shanghai Composite Index lost 1.9 percent to 2,991.12. Both were down over 3 percent at one point in mid-afternoon trade.
Analysts pointed to a meeting in Beijing on Tuesday in which officials warned of asset bubbles - without being more specific - and unconfirmed media reports that regulators were preparing to restrict WMP companies from buying stocks.
A second blow came from increased disclosure requirements for companies with shares which have exhibited unexplained sharp movements.