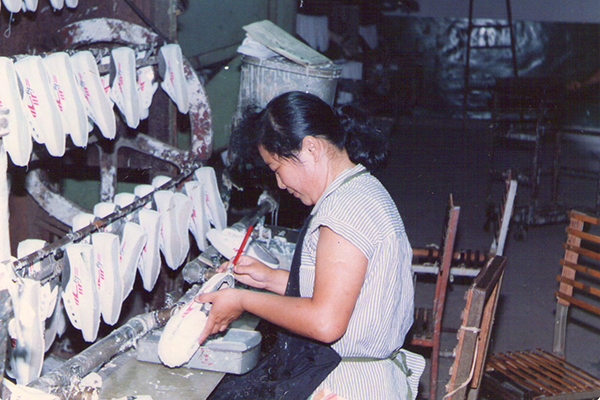 At its peak in the 1980s, Feiyue sold 4 million pairs of sneakers every year. Today, the brand is slowly making a comeback, having sold 10 percent more shoes last year than the year before. [Photo provided to China Daily]
Required rectifications
Ning said that despite the massive volume of made-in-China products, many companies are unable to break into the international markets because they are strictly original equipment manufacturers. He said that Chinese enterprises will need to hasten their transformation into companies that can add value to their products.
"The stories of the big European brands teach us that it is important to consistently develop a brand and have a leader with an international vision. These are vital factors in ensuring that a brand stays competitive over time," said Jiang.
Today, one of the main problems Feiyue faces in China is the proliferation of knock-off sneakers across all sales channels. Liu said that there are at least 1 million Feiyue sneakers sold to villages and small towns, but only about 10 percent are made by Shanghai Shenglong Shoes.
He added that the company has over the years attempted to convince consumers that Shanghai Shenglong Shoes is the only authentic source of Feiyue sneakers but copycats have daringly countered with their own claims.
"In the past two decades, we've paid a lot of attention to the results and success without giving much focus to honest, fair competition and intellectual property rights. It's time to start addressing these issues now, and it's going to require the efforts of the government and enterprises to effect change," said Wang Jun, a professor who specializes in trademark law from Fudan University.