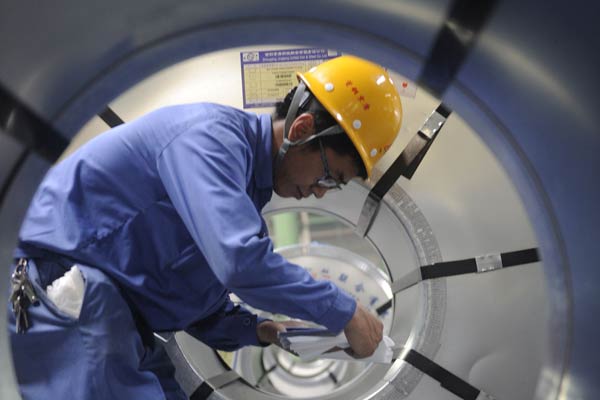 A worker is pictured in Shougang Jingtang United Iron & Steel Co on Aug 28, 2014. [Photo / Xinhua]
China puts great emphasis on the promotion of the non-public sector economy, which contributes approximately 60 percent to the country's GDP, 80 percent of employment, and over 50 percent of total revenue, and will make fresh efforts to boost private investment, said a report released at a news conference of the State Council Information Office on Tuesday.
Private investment registered year-on-year growth rate of 5.2 percent in the first four months of this year, about 7.5 percentage points less than in the same period of last year and 5.3 percentage points less than the overall growth rate in social investment, the report noted.
In response to the recent slowdown in the growth in private investment, the State Council, China's cabinet, sent nine ministry-level teams to conduct a 10-day field inspection in 18 provincial-level regions starting May 20, according to the report.
Sluggish demand, unfavorable policies, insufficient government support, and rising labor and financing costs, have caused many private enterprises to show little interest in making investments, said Zhang Yong, deputy head of the National Development and Reform Commission, at Tuesday's meeting.
"The lack of skills is also responsible for the predicament that many entrepreneurs are in," he added.
According to the report, local governments have made several successful attempts to stimulate private investment, ranging from the promotion of the public-private partnership approach and allowing more private capital to enter the energy and infrastructure industries, to granting college students easier access to entrepreneurship.
The implementation of certain projects, however, has failed to work as expected, said Vice-Minister of Finance Liu Kun. "During the 10-day inspection, some private companies complained that quality PPP projects are basically monopolized by State-owned enterprises, and a few local governments have a bad credit record in this regard," Liu said.
To regain the confidence of private investors, Feng Fei, vice-minister of industry and information technology, stressed the need to create a climate of fair competition in which private investors can participate in the ongoing reform and mergers of SOEs.
"Governments at all levels also need to improve their service for private companies and eliminate the existing discrimination against private capital", added Feng.
Xia Guangyao, chairman of Wenzhou Jialunte Textile Finery Co in Zhejiang province, said the company has invested in a government-backed park project in the city. Projects which entail the concept of environmental protection and provide long-term benefits to local residents are of great interest to him.
"Even though privately owned enterprises have the willingness to invest, available projects are quite limited. The most important issue that needs to be addressed, which has been stated from time to time, is that they have equal treatment with State-owned enterprises when it comes to the same project. If there are more favorable conditions provided concerning financing, I think our willingness will grow accordingly," he said.