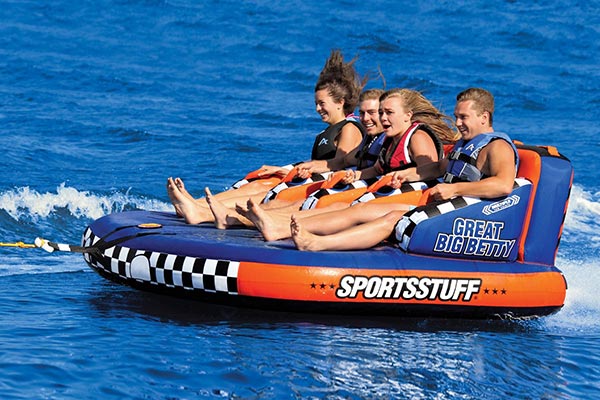 A group of tourists enjoy a ride on an inflatable boat made by Beijing Bonna Yachting.[Provided to China Daily]
For long, gleaming luxury super-boats have been a recurring theme at boat shows in China. The 21st China (Shanghai) International Boat Show earlier this month, however, proved to be a game-changer.
Audiences were treated to sights of colorful, affordable inventions that promise to make water-based recreation a fun activity for common folks.
For instance, Beijing Bonna Yachting displayed a variety of inflatable boats, including towable tubes, floating lounges and boards.
According to Zhang Zhiyong, general manager of the company, inflatable towable tubes have become increasingly popular in the China market, particularly among beach-side amusement facility operators and yacht clubs.
These tubes, costing between 2,000 yuan ($309) and 3,000 yuan each, can be used in various environments like lakes, rivers and seas.
Not just inflatable tube manufacturers, even beach operators appear set to see brisk business. "It's a highly profitable business. Beach operators and yacht clubs charge at least 150 yuan per person for a four-minute tube ride. That's a better option for yacht clubs whose bigger, expensive vessels like yachts and big boats are found anchored at harbors and marinas for long periods of time, doing nothing, for want of customers. Since the tube needs to be hitched to the rear of a boat, the clubs can make full use of their existing yachts and make money from quick, short tube rides."
Floating lounges have also gained in popularity. They can be used in swimming pools or placid waters, based on the concept that a floating lounge is a sofa-on-water made for a comfortable chat with friends over chilled beverages.
What's more, it is suitable for children too. Zhang Chenmei, 38, a senior analyst at a Shanghai-based energy consultancy firm, has just bought a small floating lounge for her five-year-old daughter from an overseas e-commerce platform.
"I have seen people having great fun on these floating lounges in Australia. My daughter has also tried it at a recreational park in Shanghai and enjoyed it much. So, I have bought one for her. We'll use it in Shanghai or whenever we travel to a seaside city. As long as there are companies selling such products in China, it will save me the trouble of shopping on overseas platforms and waiting for the long delivery time," Zhang said.
Clearly, the trend is towards products for individuals. Beijing Bonna used to supply engineering equipment to firms dealing in big-sized boats. Now, as demand rises for smaller boats, the company has quickly changed gears and adapted to the market for affordable products.
"Luxury yachts were targeted at a specific market. But the government's anti-extravagance campaign has made sales of these luxury boats and related equipment increasingly difficult. So, selling these more affordable products seems a right choice now," he said.
Chen Xiao, director of the Asia Pacific Tourism Organization, said recreational boats are no longer niche luxury products in China but mass consumer goods. This change in consumers' concept of a modern lifestyle can be attributed to the Chinese economy becoming more developed and connected to the international market, he said.