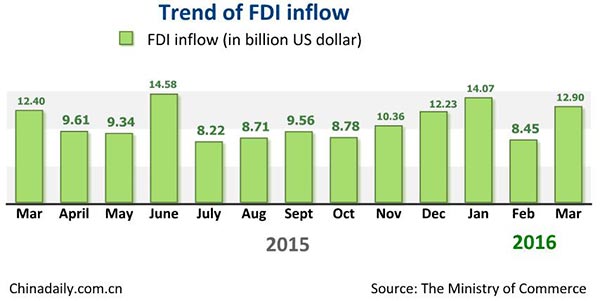 BEIJING - Foreign direct investment (FDI) in the Chinese mainland continued to rise in the first quarter of the year, official data showed.
FDI, which excludes investment in the financial sector, rose 4.5 percent year on year to 224.21 billion yuan ($34.7 billion) in the Jan-March period, the Ministry of Commerce said Tuesday.
Investment in the service sector accounted for 68.9 percent of total inflow during the period, reaching 154.38 billion yuan.
FDI in the high-tech service industry soared 104.3 percent year on year during the period to 25.52 billion yuan.
Investment from countries along routes of the Belt and Road remained robust, up by 8 percent from a year ago to $1.84 billion.
In March, FDI grew 7.8 percent year on year to 82.34 billion yuan, the data showed.