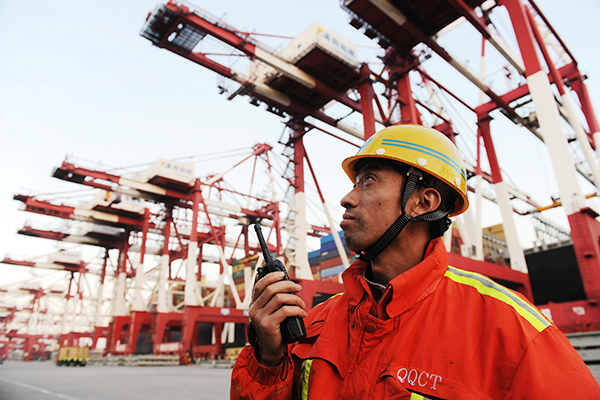 A worker looks closely as containers are unloaded in Qingdao Port, Shandong province. China is eager to create a fair investment environment for foreign businesses. [Photo/China Daily]
Negotiators have already completed 24 rounds of talks
China and the United States should complete negotiations on the bilateral investment treaty before November's US presidential election to prevent potential political intervention, former commerce minister Chen Deming said on Wednesday.
His comments came after the US Republican presidential frontrunner Donald Trump pledged to impose tariffs on Chinese products to "level the playing field", even though this would be contrary to the rules of the World Trade Organization.
Speaking at the annual Boao Forum for Asia in Boao, Hainan province, Chen said China and the US have completed text negotiations on the bilateral investment treaty, or BIT. Both sides are now exploring ways of further shrinking the so-called negative lists before moving on to talks on market access, he said.
A "negative list" specifies any bans or limits on foreign investment.
Businesses not on such a list are presumed to be unrestricted. This system has been adopted in China's four pilot free trade zones in Shanghai, Tianjin, Guangdong and Fujian, which opened in the past two years.
But negotiators have yet to decide on the negative lists in the China-US talks.
Eager to create a fair investment environment for foreign businesses, China has urged the US to exchange views on the negative lists to conclude the talks.
Reuben Jeffery, president of Rockefeller and Co, said the validation of BIT can help both Chinese and US companies operate business in each other's market independently in the long term, instead of looking for local partners to form joint ventures. This would be fairly flexible for them to control their finance operation and make investment decisions.