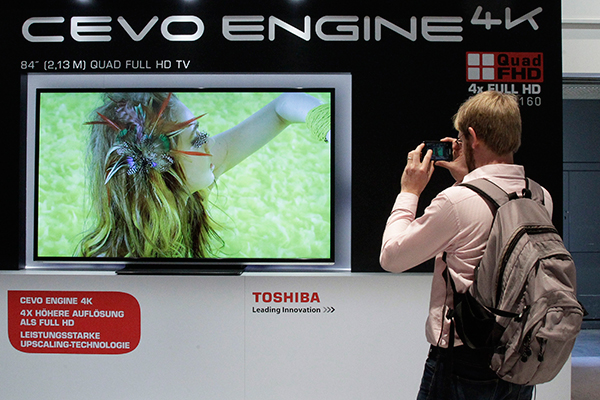 A man takes a picture of Toshiba's 4xFullHD television set at the IFA consumer electronics fair in Berlin. [Photo/Agencies]
A deal on the sale of Toshiba Corp's home appliances business to Chinese company Midea Group has yet to be confirmed, both companies said on Tuesday.
The announcement came after Japan's Nikkei media reported that talks on the sale had reached the final stage.
The sale will be worth more than $1 billion, the report said.
Midea, a leading Chinese home appliances manufacturer based in Guangdong province, said the company had no information to share on the deal.
However, Midea has always been in an "open and active" approach in looking for opportunities to strengthen its international business, while taking every factor into consideration before making final decisions for its global operation, the company said in a news release.
Toshiba also said that no concrete agreements had been reached on the sale with any specific company.
Toshiba, which reported a loss due to accounting fraud in 2015, said in a news release that it had not made such announcement and the Nikkei report was not based on information provided by the company.
In December, the Japanese electronic giant announced a restructuring. It has since been in negotiation with several companies on improving efficiencies.
Midea's turnover reached an all-time high of $23 billion in 2014, with one-third of its revenue coming from overseas, partly due to its rapid foreign acquisitions.
The Shenzhen Stock Exchange-listed company purchased the magnetron plant of Japan's Sanyo Electric Co Ltd in 2001 and acquired a 32.5 percent share of Egypt-listed air-conditioning manufacturer Miraco in 2010.
Industry insiders said previous cooperation between Midea and Toshiba would help make the sale "possible" to Chinese companies, which have emerged rapidly in the international market.
"Toshiba has developed a sound brand and good quality in its home appliances business. But it needs to be well restructured due to big losses," Chen Yan, a researcher specializing in Japanese business in China, was quoted as saying by the China Business News.
Acquisition of Toshiba's home appliances business will help boost Chinese companies' strength in technology, research and branding, Chen said.
Midea had formed a joint venture with Toshiba-Carrier for the production of air-conditioning products in 2004 after purchasing the Macro-Toshiba compressor factory, which was later named GMCC-Guangdong Midea Toshiba Compressor Corp.
"It has been Midea's core strategy to operate globally and we are actively seeking opportunities for investment overseas," said Yuan Liqun, vice-president of Midea Group and a deputy to the National People's Congress, during the ongoing annual meeting of the legislative body in Beijing.
After years of development, Midea has set up three overseas research and development centers and seven production bases in six countries, including Egypt, Brazil, Argentina and India, with some of the projects jointly set up by the Chinese side and other multimedia white-goods giants, according to Yuan.