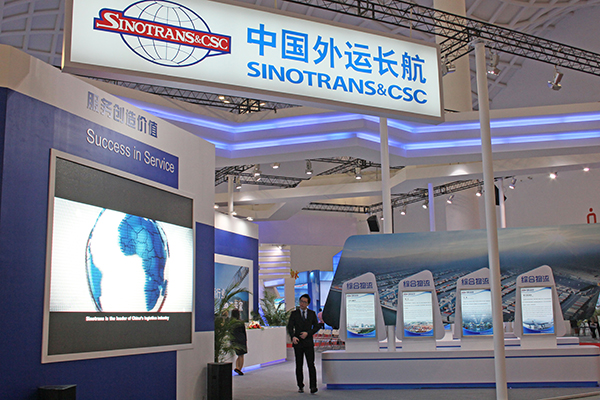 The stand of Sinotrans & CSC Holdings Co at a transportation expo in Haikou, capital of Hainan province. [Photo provided to China Daily]
Sinotrans & CSC Holdings Co, China's second-largest shipping company by fleet size, will focus on developing integrated logistics, energy transportation and port businesses after its acquisition by China Merchants Group, officials said on Tuesday.
China Merchants is a State-owned conglomerate based in Hong Kong, with business in transportation, finance and real estate. The acquisition, aimed at optimizing shipping and multimodal logistics resources, as well as enhancing the country's energy security, was approved by government regulators in December.
Li Jianhong, chairman of China Merchants, said the reorganization is a practical way to achieve business scale and synergies in particular in the sectors of logistics, energy and bulk shipping, property development, ports and marine and offshore engineering between the two companies to better compete with global rivals.
Sinotrans & CSC is involved in a wide range of businesses, including freight forwarding by water, land and air, supply-chain logistics and warehousing. Its shipping businesses include dry bulk transport, oil tanker service, container transport and fuel trade.
Thanks to improved multimodal logistics services and a readjustment of the assets of its two subsidiaries over the past two years, Sinotrans & CSC made a 5.1 billion yuan ($784 million) profit in 2015 after suffering consecutive losses from 2008 to 2013.
"These businesses are expected to transform China Merchants' businesses into a more diversified operation model that can take full advantage of the opportunities likely to come from the Belt and Road Initiative, the development of the Yangtze River Economic Belt, as well as ensuring China's energy security," Li said at a reorganization meeting in Beijing.
China Merchants controlled assets valuing at 860 billion yuan at the end of 2015, up 38 percent on a year-on-year basis.
Zhao Huxiang, former chairman of Sinotrans & CSC and now vice-chairman of China Merchants, said under the new management of China Merchants, Sinotrans & CSC will be able to deploy more resources to develop logistics as a core business, especially in the markets along the Belt and Road Initiative, while continuing to strengthen its pillar shipping operations.
Xiao Yaqing, head of the State-owned Assets Supervision and Administration Commission of the State Council, said 106 State-owned enterprises currently still have problems such as homogeneous competition and weak competitiveness.
"To resolve this issue, the voluntary allocation model carried out by Sinotrans & CSC to merge into China Merchants will be applied as an important method to further reorganize State-owned enterprises in the future," said Xiao.