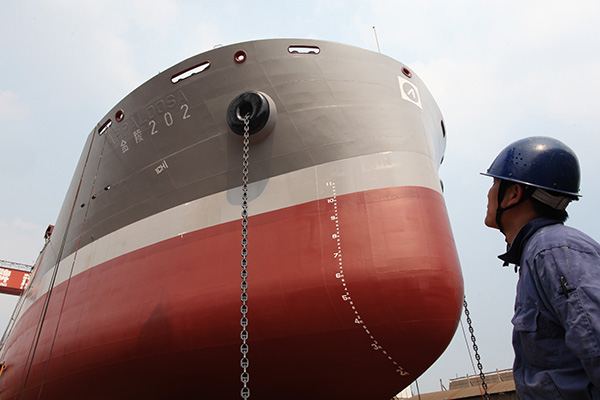 A bulk cargo ship made by Jinling Shipyard under Sinotrans Shipping Ltd about to be launched in Nanjing, Jiangsu province. [Photo provided to China Daily]
Sinotrans Shipping Ltd said on Sunday that a planned restructuring of its parent company could mean a change to its own shareholding.
Sinotrans Shipping (Holdings) Ltd, a subsidiary of Sinotrans and CSC Holdings Co Ltd, holds a 65 percent stake in Sinotrans Shipping. Other shareholders own 32 percent stake, with the rest held by Sinotrans (Hong Kong) Holdings Ltd, another subsidiary of Sinotrans and CSC Holdings Co Ltd. In effect, the parent owns 68 percent of Sinotrans Shipping.
The merger between Sinotrans and CSC Holdings Co Ltd, China's second-largest commodity shipping company by revenue, and the Hong Kong-based China Merchants Group, another State-owned shipping, banking, securities and real estate development conglomerate, was first suggested in September.
Sinotrans Shipping is Hong Kong-listed. But because any deal involving its ownership needs to be approved by the State-owned Assets Supervision and Administration Commission, as well as other related Chinese government organizations, it could take some time to complete.
Dong Liwan, a professor in international shipping at Shanghai Maritime University, said he thought the merger and restructuring of the two giant State-owned companies "is almost certain".
"The central government is keen to restructure China's huge-but-fragmented shipping industry to create larger players to compete with global rivals such as Denmark's Maersk Line and Switzerland's Mediterranean Shipping Co SA."
China's shipping market is dominated by China Ocean Shipping (Group) Co, China Shipping (Group) Co, Sinotrans and CSC, and China Merchants.
A possible merger of the two largest players by revenue-China Shipping and COSCO-could point the way toward possible streamlining of other State-owned enterprises too, said Dong.
But unlike the creation of China Railway Rolling Stock Corp-the marriage of China's top two train manufacturers CNR Corp and CSR Corp in June-merging giant shipping operations could be more complex and time-consuming, because they involve more sub-sectors, such as oil tankers, bulk vessels and container ships, as well as maritime insurance, and port and ship maintenance services.
China Merchants and Sinotrans and CSC were worth 624.16 billion yuan ($97.84 billion) and 109.12 billion yuan, respectively, at the end of 2014.
Yin Zhen, deputy-director of transport planning at the Institute of Comprehensive Transportation under the National Development and Reform Commission, said that on an asset-value basis, China Merchants is highly likely to merge with CSC Holdings Co Ltd.
To improve China's ability to transport its own crude oil, Sinotrans and CSC and China Merchants Energy Shipping Co Ltd, China Merchants' oil tanker operator, have already sealed a deal to form a $1.1 billion joint venture: China Energy Transportation Corp Ltd.
China Merchants Energy Shipping holds 51 percent of that venture and will provide $566 million in assets, while Sinotrans and CSC holds a stake worth $544 million. It had a combined fleet of 35 crude carriers as of June this year.
"With a strong domestic logistics network, and overseas assets including ports and logistic companies in Africa, South Asia and Southeast Asia, the two companies' bulk vessel businesses may also be merged, to help China grab a larger share of the global logistics and infrastructure market," said Yin.