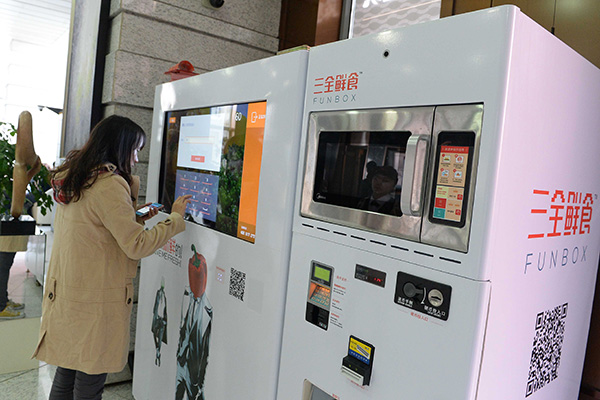 An office worker buys a Sanquan lunch box from the company's vending machine in Shanghai. This convenient meal costs about 15 yuan. A microwave oven is included in the vending machine to heat the lunch box. [Photo provided to China Daily]
Buying drinks and snacks from vending machines is nothing new. But picking up your lunch from one is rather novel.
In a move to tap into what could become a lucrative market, Sanquan Fresh Food started rolling out lunch box vending machines in office buildings across Shanghai's business district last year.
By June, the company based in Zhengzhou, Henan province, expanded its Fun Box business to Beijing.
"You don't need a waiter to deliver your food if you use Fun Box," Chen Nan, chairman of Sanquan Fresh Food, which was founded this year and is a division of Sanquan Food Co Ltd, said. "But then the Internet has optimized the offline dining experience." So far, there are 700 Fun Box vending machines, costing about 20,000 yuan ($3,174) each, in Shanghai and about 300 in office buildings in Beijing.
Next year, the company plans to expand into Guangzhou and Shenzhen.
A single machine contains up to 64 meals with each Fun Box costing about 15 yuan and consisting of two dishes as well as a portion of rice.
All customers have to do is punch into the vending machine a coded number which is automatically sent to their smartphones by the company. Payment is made online.
"When it comes to picturing office professionals trying to buy lunch, the key words that spring to mind are trouble and rigid demand," Chen said. "That is why Sanquan Fresh Food has decided to enter the direct e-commerce market by helping those professionals with different lunch options."
Parent company Sanquan Food has years of experience in the catering industry and that knowledge has been put to good effect as all the meals are freshly prepared.
The kitchens at Sanquan Fresh Food have been extended while the back office operation has developed software systems and hardware equipment as well as online marketing strategies.
In fact, the business model of combining mobile phone apps, vending machines and central kitchens is the first of its kind in China, according to Chen.
"Sanquan Fresh Food is an extension of the food delivery business which is undergoing exponential growth," he said. "The lunch boxes we provide have avoided the high logistics costs of other food delivery services.
"As salaries and rents rise, we believe machines will give us a distinct advantage in the marketplace," Chen added.
His vision certainly appears to be paying dividends although Sanquan Fresh Food has yet to release detailed financial information such as revenue figures and sales numbers.
Still, FESCO Adecco, a Shanghai-based multinational human resources firm, was one of the first companies to install a Fun Box vending machine in its office building.
Even though it is located near the Bund in Shanghai, finding the right place for lunch can be a headache for staff.
"Most of the restaurants nearby are relatively expensive for a regular work day lunch," Cai Jian, administration director of FESCO Adecco, said. "Restaurants, which are cheaper, are not within walking distance.
"This newly installed vending machine has saved us a great deal of trouble, and the lunch boxes are so popular they are usually sold out within an hour," Cai added.