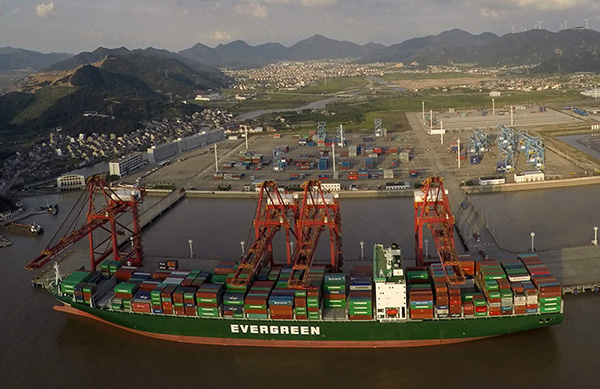 A giant container ship ready for unloading at a dock at the Zhejiang-based Ningbo-Zhoushan Port, which is considered the busiest in the world in terms of cargo tonnage. [Photo/China Daily]
Trading in shares of Zhejiang-based Ningbo Port Co was suspended on Tuesday as the company revealed it has completed merger procedures with Zhoushan Port Co.
The new company will be named Ningbo-Zhoushan Port Group Co, officials said in a Shanghai Stock Exchange announcement on Monday night, adding its ownership will be shared by both Ningbo and Zhoushan branches of the State-owned Assets Supervision and Administration Commission. The new company will hold 75.46 percent of Ningbo Port Co's stock.
Ningbo-Zhoushan Port is now considered the busiest in the world in terms of cargo tonnage, with a combined throughput of 873.47 million metric tons.
Chen Yingming, executive vice-president of Shanghai-based China Port and Harbors' Association, said Zhejiang government now plans to bring its five main ports-Ningbo, Zhoushan, Jiaxing, Taizhou and Wenzhou-under a unified company.
The combined-port plan comes as the central government has just released wider details of how it will restructure the State-owned enterprise sector, with optimizing resources being the core aim.
To meet its own goals, Zhejiang established a port investment and operation company last month to further integrate, optimize and manage those five major entry points to prevent a price war.
Each port is expected to specialize in certain functions in future, such as commodity shipping or being able to berth mega-container vessels.
"This move can be seen as a precursor to Zhejiang's focus on developing its maritime economy," said Chen.
"The government has been moving quickly on plans to reform its giant, but inefficient SOEs, especially in the transportation industry, including those involved in the shipping, ports, rail and shipbuilding sectors."
Dong Liwan, a professor in shipping infrastructure at Shanghai Maritime University, said there is already fierce competition between Ningbo and Zhoushan ports, both of which are considered strong enough in their own right to compete with other major ports such as Singapore, Hong Kong and Shanghai.
Even though Ningbo-Zhoushan now ranks top in total throughput, said Dong, its container throughput-considered a more important index to evaluate a port-was 215 million standard containers, pushing it to the fifth in the world.
"The explosions at Tianjin Port last month also pushed both central and local governments to review the growth potential, safety conditions and crisis response capability of the country's ports, as well as try to enhance their earning ability, particularly as China's foreign trade continues to slow this year," Dong said.