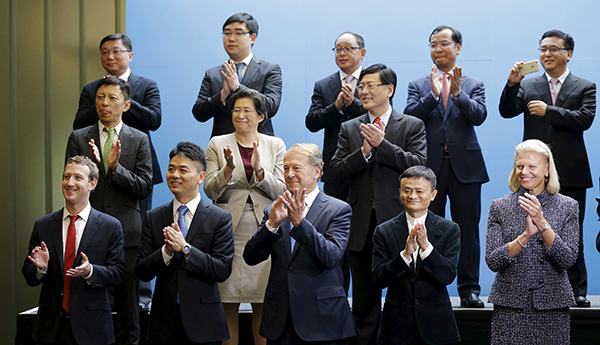 A group of CEOs and other executives applaud as Chinese President Xi Jinping (not pictured) arrives for a photo call at Microsoft's main campus in Redmond, Washington, on Sept 23. Included in the group are (front row, L-R) Facebook CEO Mark Zuckerberg, JD.com CEO Richard Liu Qiangdong, Cisco Systems Inc CEO John Chambers, Alibaba Executive Chairman Jack Ma and IBM CEO Ginni Rometty. [Photo/Agencies] 
Online giants and privately owned companies made up the majority of firms that traveled with the business delegation on Xi's US state visit
There was a distinct change in the makeup of the business delegation that accompanied President Xi Jinping on last week's state visit to the United States. Of the 15 Chinese companies that took part in the trip, four were major tech giants while 10 were privately owned businesses.
This was in sharp contrast to the previous visit in 2012 when Xi was vice-president.
Three years ago, 11 companies made up the business delegation, with Alibaba Group Holding Ltd the only Internet company, while just four were privately owned. In short, this illustrates the areas of future investment for Chinese companies in the US, which will revolve around high-tech and online-related industries.
"All these companies represent the future investment trend from China," Jiang Heng, a deputy researcher at the Chinese Academy of International Trade and Economic Cooperation in Beijing, said.
For the first time, Internet heavyweights Baidu Inc, Alibaba and Tencent Holdings Ltd, or the BAT contingent, were among the delegation. It also included other businesses from a broad range of industries, including energy, construction, finance, chemicals and consumer electronics.
Still, the BAT group highlighted the prominence of the high-tech sector's role in driving future growth in China.
"No other country apart from the US has such a grouping of companies as BAT," John Ross, senior fellow at Chongyang Institute for Financial Studies at Renmin University of China in Beijing, said. "I think the inclusion of Internet companies from China in President Xi Jinping's trip is important and shows the technological upgrading of the country's economy."
China had 668 million Web users by June this year, according to China Internet Network Information Center-the largest number of any country. Online businesses here have attracted billions of dollars in sales and investment, with the e-commerce sector showing signs of tremendous growth potential.
Yet the global reach of US tech companies is still considerable compared to their Chinese counterparts.
Development work on what later became the World Wide Web was started in the late 1960s and 1970s. A decade later, the US dominated the global online market, with brands such as Apple Inc and Microsoft Corp leading the Silicon Valley pack. Then in the 1990s, Google Inc burst onto the scene with its sophisticated search engine.
But during the past 15 years, China has caught up, with companies such as Alibaba, Tencent and Lenovo Group Ltd. "China has overtaken countries such as Germany and India, which were previously ahead of it, and is second only to US," Ross said. "This is a big strategic step forward."
China's economy is going through fundamental changes with the "new normal" of slower but sustainable growth replacing the old model. High-tech industries, domestic consumption and the service sector will have crucial roles to play.