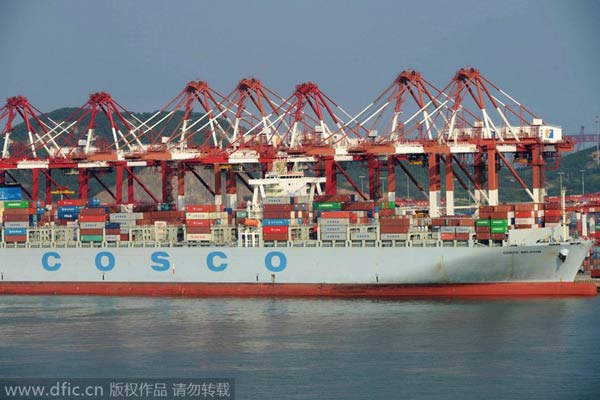 A fully-loaded container ship of COSCO departs from the Port of Qingdao in Qingdao city, East China's Shandong province, August 8, 2014. [Photo/IC] 
China Ocean Shipping (Group) Co remained profitable during the first six months of this year, with net profit attributable to the shareholders reaching 1.897 billion yuan ($296 million), a 183.31 percent increase over the corresponding period a year earlier, according to interim results released by China's largest liner on Friday.
Despite the slowdown in global economic growth and weak overall demand in the shipping market, together with the continuous overcapacity and bare improvement in the supply-demand imbalance, the company managed to optimize its routes and supply structure and achieve a rebound in freight rates, said COSCO Chairman Ma Zehua.
"The company has also adjusted its allocation of global shipping capacity and improved its regional shipping route network," he said.
"COSCO has adopted proactive measures like optimizing the market structure, customers and cargo sources, to better handle risks and reduce costs."
According to Ma, the lower oil prices have helped improve business conditions, but shipping companies were operating under great pressure as the shipping freight rates still remained at low levels.
Looking ahead to the second half, Ma said the global economy is entering a "new normal state" and will remain unchanged for some time. "Global shipping demand growth will continue to be moderate for some time."
While the shipping capacity will remain high, the international shipping market will continue to face tremendous pressure, said Guo Huawei, secretary of the board at COSCO.
He said that the recent reports about a possible merger of China's two largest shipping lines by revenue and the joining of the five major subsidiaries of COSCO and China Shipping (Group) Co, is going through the preparatory stage.
He, however, refused to disclose any further details.
The possible merger was first hinted at in a stock exchange filing earlier this month, which said trading in the firms' stocks would be suspended.
Guo said despite the speculation, the company will strive to seize the strategic opportunities arising from national initiatives like the Belt and Road (for infrastructure connectivity in Asia, Africa and Europe), the integrated development of Beijing, Tianjin and Hebei, and the Yangtze River Economic Zone.