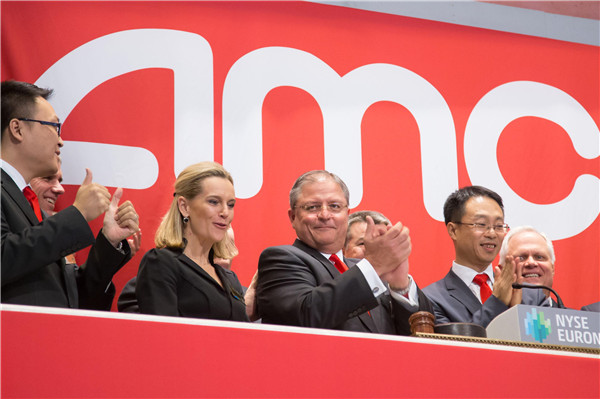 Gerry Lopez, CEO of AMC Entertainment, an arm of Wanda Cinema Line Co, rings the opening bell at the New York Stock Exchange in New York City in this file photo. Wanda Cinema Line has been expanding its overseas existence. GETTY IMAGES
Chinese billionaire Wang Jianlin's Wanda Cinema Line Co is among international companies that plan to bid for Turkey's biggest cinema chain, three people with knowledge of the plan said.
The owners of Mars Entertainment Group will start a formal sales process in March, said the people, who asked not to be identified because the plan is not public. Other potential bidders are Seoul-based CJ CGV Co Ltd and companies from the United States, Mexico, United Kingdom and Japan.
Some private-equity firms also expressed an interest in the company, according to one of the people. The sales price could be as much as 12 times the company's earnings before interest, tax, depreciation and amortization, plus debt, which may value it at about 2.4 billion liras ($800 million).
The owners of the Istanbul-based company, formally known as Mars Sinema & Sportif Tesisler Isletmeciligi AS, hired Goldman Sachs Group Inc and Morgan Stanley to manage the sale of the company, people with knowledge of the matter said in December.
Mars' owners Actera Group and Esas Holding AS originally initiated a sale in early 2015. This stalled as Turkey held two elections last year that sparked market volatility and as investors shied away from emerging markets ahead of expected US rate increases, which started in December.
Actera and Esas own 69.5 percent of Mars, with the remainder held by founders including Chief Executive Officer Muzaffer Yildirim and Menderes Utku, according to the company's website.
Mars owns the Cinemaximum cinema chain, which has about 600 screens nationwide, and the Mars Athletic Club gyms. The number of movie tickets sold in Turkey rose 23 percent to 55.4 million last year, while the number of theaters rose by 3.2 percent, according to state statistics office data.