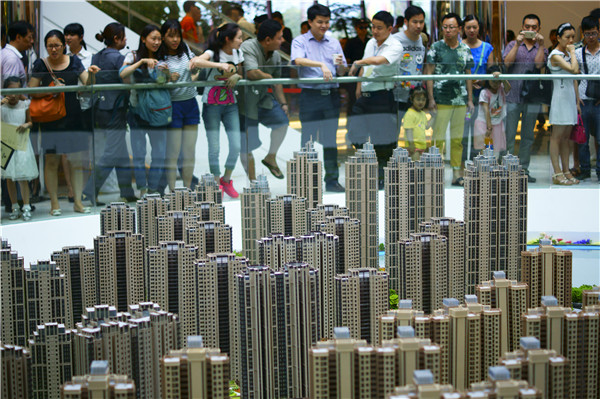 Potential homebuyers examine a property model in Yichang, Hubei province. China's housing market continued an upward trend in January, with more than half of major cities reporting month-on-month rises in new-home prices. ZHOU JIANPING/CHINA DAILY
Shenzhen is planning to offer more affordable housing over the next five years as part of an initiative to cool the red-hot property market, a local official said.
New-home prices in the southern city in Guangdong province, neighboring Hong Kong, increased a staggering 47.5 percent year-on-year in 2015, recording the sharpest home price increase for a Chinese city, according to the local government.
"One of the efficient measures to cool the market is to introduce more affordable housing in the years ahead," said Qiao Hengli, deputy director of the Shenzhen Urban Planning and Land Resources Commission.
According to Qiao, about 350,000 units of government-subsidized housing will be provided during the 13th Five-Year Plan (2016-20).
"They will be mainly offered to professionals arriving to work in Shenzhen," said Qiao, adding that a lack of affordable housing is affecting the city's ability to attract top talent.
Shenzhen will also keep in place the restrictions on home purchases, a policy that has also been implemented in other big cities such as Shanghai and Guangzhou, Qiao said.
He attributed the city's skyrocketing home prices to limited land supplies and strong demand from local residents, especially young people, as Shenzhen has developed into one of the most competitive cities in the country.
"Young people have developed strong purchasing power in Shenzhen, which has helped push up prices," said Qiao.
With an urban area of about 1,990 square kilometers and a population of more than 10 million, Shenzhen is developing a technology-and innovation-driven economy.
China's housing market continued an upward trend in January, with more than half of major cities reporting month-on-month rises in new-home prices.
Of the 70 large and medium-sized cities surveyed, only 24 reported month-on-month declines in prices in January, down from 27 in December, according to the National Bureau of Statistics on Friday.
On a yearly basis, 25 cities posted new-home price increases and 45 reported falls, compared with 21 and 49 in December.
In Shenzhen, particularly, new-home prices soared 52.7 percent year-on-year in January, the sharpest increase in a single month among all the major cities, followed by Shanghai and Beijing, where prices surged 21.4 percent and 11.3 percent year-on-year.
Average prices for new houses in Shenzhen reached about 43,000 yuan ($6,570) per square meter in December.
The sharp increase has resulted in "frenzy" buying from individual investors in Shenzhen, with some having bought houses by crowdfunding investment, according to local media reports.
"We have noticed that ... and more stricter purchasing policies will be introduced to cool the market," said Qiao.
China's property market started to recover in the second half of 2015 after cooling for more than a year, boosted by the government's support measures including interest rate cuts and lower down payment requirements.