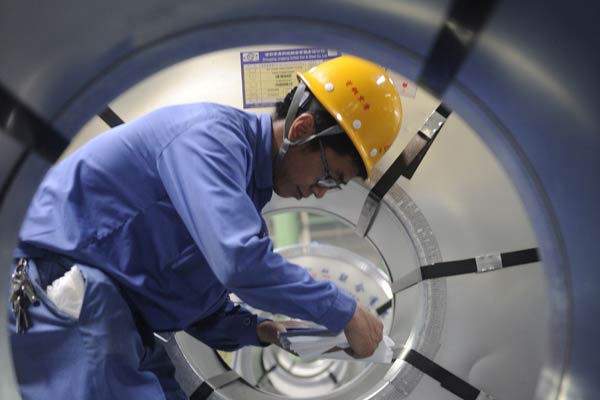 A worker is pictured in Shougang Jingtang United Iron & Steel Co on Aug 28, 2014. [Photo/Xinhua]
European Union companies will be more willing to invest in China if the country's overcapacity problems are reduced, said Joerg Wuttke, president of the European Union Chamber of Commerce in China.
Wuttke said that the EU's investment in China dropped by 25 percent last year. He said that China's overcapacity actually makes it difficult for European companies in the home markets and also third markets. If the overcapacity problem is fixed, they will actually be willing to invest in upscale, sustainable products and projects.
"So if China is willing to go through with strong political will in order to eliminate the overcapacity, I think Europeans will be more interested in investing in upscale, top-end technologies, in those respective sectors," he said before the chamber released a report Monday in Beijing about China's overcapacity.
The European Chamber of Commerce in China released a new major report, Overcapacity in China: An Impediment to the Party's Reform Agenda, which provides a detailed examination of the causes and consequences of overcapacity in eight key industries and analyzes the developments that have taken place since the European Chamber published its original report on this topic in 2009.
The new report explains that although the central government has made great efforts to address excessive production capacity, factors such as regional protectionism and weak regulatory enforcement have hindered policy implementation.
"Without a sustained effort to address it now, overcapacity may well seriously impede the effectiveness of China's economic reform agenda," he said.
The report provides 30 recommendations that should be taken to address this deep-rooted problem. The EU Chamber hopes that they will also contribute to a strengthening of the government's resolve to implement the core tenet of the Third Plenum's Decision, establishing the market as the decisive force in China's economy.
"A review of our original study showed that the action plan we proposed in 2009 is still relevant today. We hope that our analysis and recommendations for 2016 will result in concrete actions by Chinese policy makers," he says.
"Although the Party's annual Central Economic Work Conference has listed addressing overcapacity as a priority every year from 2007 to 2015, fundamental changes have not yet taken place. Tackling overcapacity is now more urgent than ever: the cost of maintaining the status quo is far too high."