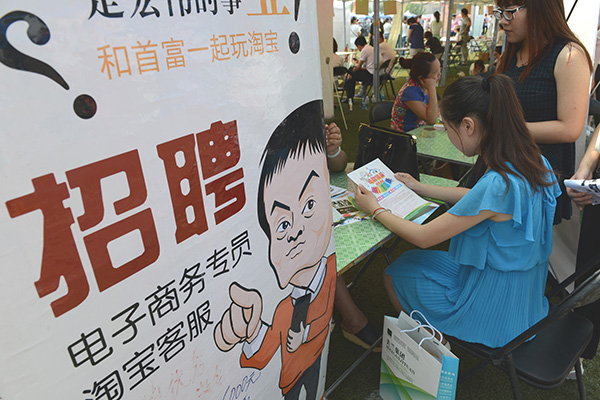 A woman graduate reads employment flier at an e-commerce job fair in Zhengzhou, Henan province, last May. [Photo/China Daily]
In 2015, Chinese firms are said to have employed thousands of people via flexible staffing, with new apps exploiting their demand
Flexible staffing, or hiring of staff on temporary contract rather than permanent basis, has become a new option for cost-conscious Chinese employers like private sector companies.
The practice is gaining currency as recruitment agencies are offering related solutions like apps to clients who are desperate to prune their cost of operations, especially that of labor.
As estimated by Shanghai-based human resources media group HRoot, flexible staffing will see an explosive growth between 2015 and 2019, with a compound average annual growth rate of 22 percent. The market value of flexible staffing surged to 21.3 billion yuan ($3.23 billion) in 2015. It will continue to soar to 47.6 billion yuan in 2019.
Hays Plc, a global recruitment specialist, polled 1,200 Chinese mainland employers in January 2016, and found that 60 percent of them adopted flexible staffing in 2015.
And 19 percent of them plan to increase their use of temporary staff this year.
Reasons abound. Increased business activity, quick expansion and soaring labor cost in China are prompting Chinese employers to embrace flexible staffing, said Simon Lance, managing director of Hays in China.
Instead of three- or five-year tenures, employers are offering contracts for just three months and, sometimes, even a few hours, as per the time needed to finish the job.
Typically, flexible staffing is said to help employers cut costs by up to 40 percent. In China, the practice is still nascent, with temp jobs limited to administration department of organizations.
"Most of them are for packers or sales promotion staff. But in developed markets, even engineers and financial services professionals get hired via flexible staffing as there is a system to measure these people's performance," said Liu Jing, a former human resources director at a leading technology company.
She quit her job last year, teamed up with two business partners and launched Yigongbao, an app for temps, in August 2015.
As a mainstream employment practice, flexible staffing originated in western Europe in 1960, and was widely adopted in the rest of Europe a decade later.
Globally, at least 500,000 people work on temporary basis every day. More than 130,000 recruitment firms provide flexible staffing services.