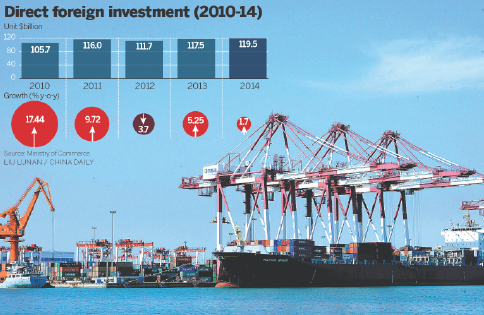 Despite China's cooling economy, the enthusiasm of the world's top 500 firms for setting up new business in the nation shows no signs of abating.
The multinationals' optimism in China's economic outlook helped the country attract 781.4 billion yuan ($126.3 billion) in nonfinancial foreign direct investment in 2015 despite the economic slowdown, up 6.4 percent from 2014, said the Ministry of Commerce on Thursday.
"The world's top 500 companies are still optimistic about the Chinese market and investment prospects, and their continuous investment and expansion in the country reflect a commitment to China's economic outlook," said Tang Wenhong, director-general of the Ministry of Commerce's department of foreign investment administration.
Automobiles and auto parts, petrification, energy, infrastructure, biology, pharmaceuticals, communication, finance and software services attracted the most foreign direct investment, he said.
Tang raised examples of Volkswagen AG, Deutsche Lufthansa AG, Sumsung Electronics Co Ltd, Nippon Electric Glass Co Ltd, Bridgestone Group, Itochu Corp and Intel Corp as companies which have invested substantially in the fields mentioned above in 2015.
United States ride-hailing firm Uber Technologies Inc has committed to invest 6.3 billion yuan in China, aiming to break into its huge tourism industry with businesses ranging from transportation services to automotive financing, according to Reuters.
Starbucks Corp is also planning to open 500 stores this year in China, its largest market outside of the US, aiming to create 10,000 jobs in the country every year through 2019.
According to the ministry, foreign-invested enterprises are playing a key role in China, with investment from overseas companies currently contributing to half of all foreign trade in China, one-quarter of industrial output, one-seventh of urban employment and one-fifth of tax income.
China is also attracting increased number of high-end functional organizations, including multinational companies' regional headquarters and more than 2,400 research and development institutions so far, it said.
Compared with traditional heavy industries, which have been facing continuous weakness, the services sector is more favored by foreign investors, which has utilized 477.1 billion yuan of foreign investment in 2015, a year-on-year increase of 17.3 percent, said the ministry.
Experts said the services sector has become a significant field of attracting foreign capital, and the rise also illustrates a further optimization of the foreign capital industrial structure as well as China's economic transformation and upgrading.
The services sector represents the overall strength of a country and China should further utilize foreign capital in developing the sector, said Xing Houyuan, deputy director of the Chinese Academy of International Trade and Economic Cooperation at the Ministry of Commerce.
According to the ministry, the services sector accounted for 245.2 billion yuan of foreign direct investment in 2015, with high-tech manufacturing accounting for 58.35 billion yuan, up 9.5 percent from 2014 and accounting for 23.8 percent of investment in the manufacturing sector.
Barely any FDI was approved for industries including steel, cement and shipbuilding, that are suffering from overcapacity, it said.
According to Tang, from January to November last year, free trade zones in Guangdong, Tianjin and Fujian attracted investment of 445.81 billion yuan from 6,040 overseas companies.