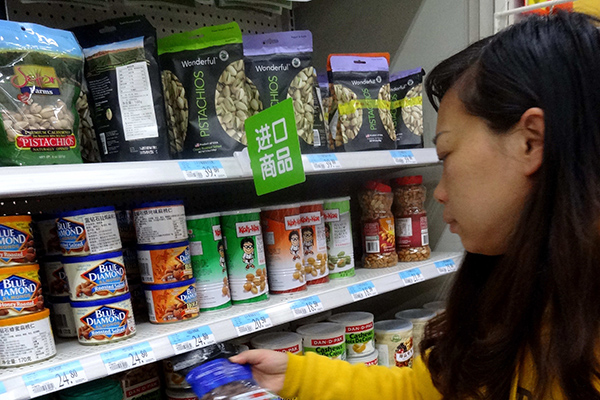 Imported nuts on display at a supermarket in Yichang, Hubei province. [Photo/China Daily]
Sales of pistachios, macadamias, hazelnuts and other varieties in 2015 may exceed 112b yuan of 2014
In December, Bree Morse, a Miss California USA, spent her 23rd birthday in China. She was on a nine-day nationwide tour, not to promote her personal career as an entertainment industry personality, but to advocate the benefits of California pistachios.
As it turns out, it is not just the state of California, or the United States itself, that wants a share of the growing nuts-and-seeds market in China.
According to the National Food Industry Association, sales of nuts and seeds in China were worth 111.7 billion yuan ($17.29 billion) in 2014, accounting for more than one-third of the overall snacks market. Everyone who exports nuts and seeds are eyeing China.
Morse and her fellow delegates from the American Pistachio Growers visited Shanghai, Ningbo, Xi'an and Beijing, meeting consumers, retailers, caterers, bakers, and impressed upon them how pistachio nuts could enhance foods like glutenous rice ball soup by replacing sesame. The visitors emphasized how pista nuts from California, even when eaten plain, could prove healthful.
The 650-strong APG, the delegates said, spans California, Arizona and New Mexico, and wishes to bring its special food item to a wider range of consumers in China.
Since 2008, the US has been the world's largest grower of pistachio nuts, and exporting some of them to China. But the savory food is not the only variety of nuts to enter the China market.
Zhang Liang, director of the snacks department of the supermarket chain RT-Mart in Shanghai, said imported nuts are getting increasingly popular among consumers, especially during holidays.
"Pecan, chestnut, walnut, macadamia, almond, hazelnut, you name it. Consumers are trying more varieties of nuts as snacks during quality time with families and parties with friends, replacing the old pattern of just peanuts and sunflower seeds," said Zhang.
Not unexpectedly, competition in the nuts-and-seeds market is turning fiercer by the day as new players enter it.
In a store of Ole supermarket, the high-end retailer of China Resources Enterprise, as many as 12 salesgirls clad in bright costumes promoted their respective brands of nuts and seeds in the run-up to Christmas.
"Try this pecan from the US," said Zhang Xiaoting, 21, extending a handful of nuts. She is a part-time promoter who works two days a week introducing pecans to consumers.
Wang Juanjuan, 37, just two meters away from Zhang on the shopfloor, roasts "delicious Thai cashewnuts" and shares a plateful of them with shoppers passing by.