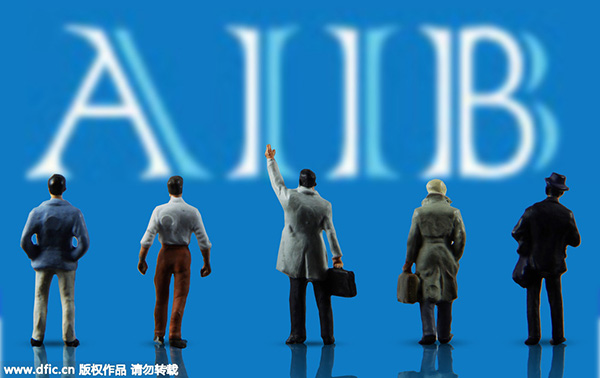 The Asian Infrastructure Investment Bank (AIIB) was formally established on Dec 25 after it garnered enough countries' domestic approval. [Photo/IC]
High-end jobs are flourishing with the launch of China-initiated new financial institutions, and an imminent change in share-listing rules in the domestic market.
Industry experts say this is just part of the booming demand among Chinese companies for global managerial talent in their overseas expansion and business transition.
The recruitment wave is being led by the Asian Infrastructure Investment Bank, an intergovernmental regional development investment service that was formally established last week.
The AIIB posted five job vacancies on its English-language website six days before its official establishment on Dec 25, and 33 other vacancies in the following days.
The Silk Road Fund, a development financial institution funded solely by China, has advertised 10 positions on its website since Dec 10.
A Web survey conducted by ChinaHR.com found that recruitment of high-end financial service managers has risen throughout the year. The first three quarters saw a double-digit rise in many coastal areas, ranging from Shanghai to Shenzhen.
Applications have closed for director-general-level positions, vice-presidents, chief financial, investment and administrative officers at the AIIB. The Ministry of Finance has said that recruitment is continuing and more posts will become available.
Interest for the top-level jobs has been high. Professionals in China's banking sector had been inquiring among themselves about how to submit their CVs to the bank's Multilateral Interim Secretariat, which at that time had not started open hiring.