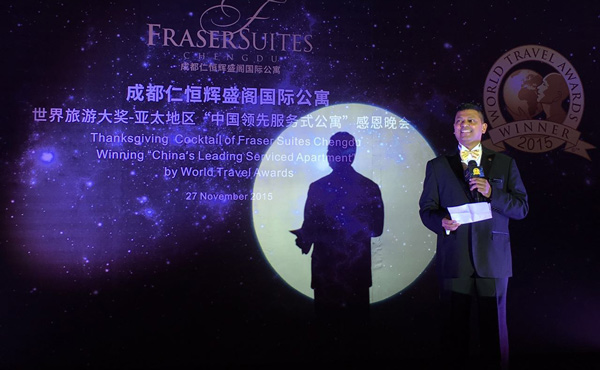 Danny Lingham, general manager of Fraser Suites Chengdu, delivers a speech at the thanksgiving cocktail in Chengdu, Sichuan province on November 27, 2015. [Photo by Zhao Tingting / chinadaily.com.cn]
When sharing the secrets of leading Fraser Suites Chengdu to the most prestigious award in the travel and tourism industry, Danny Lingham, general manager of the serviced residence, stressed offering love to employees, and the importance of showing love in management.
"Only when employees enjoy their work, can they offer quality service to customers. Therefore, to me, the employees come first, then customers," Lingham said.
Fraser Suites Chengdu retained the title of China's Leading Serviced Apartments from the World Travel Awards Asia & Australasia for a third consecutive year.
The World Travel Awards are the ultimate hallmark of quality, where travel professionals and high-end tourism consumers vote for the winners.
"It is a recognition of our product and services and we are planning to build another serviced residence in Chengdu in two years," said Benjamin Wong, regional director of operations of Singapore-based Frasers Hospitality Pte Ltd.
Lingham took the helm of the Fraser Suites Chengdu in 2011.
"I appreciated the help and support from the property owner and my team. We are trying to create a family feeling for our customers, " he said.
The average occupancy rate of Fraser Suites Chengdu stood at 70 to 80 percent this year, with mainly long-term stays.
Chengdu, capital of Sichuan province, has seen many new hotels open in recent years, including some super luxury ones developed by well-known brands.
"We view the competition as a chance to upgrade ourselves. We will stick to our position as a serviced residence and play the full role of our differentiated advantages in management and services", said Lingham.
"We added more tech elements to Fraser Suites Chengdu to meet the growing needs of the youth, including Wi-Fi and mobile payment services", he added.
"We have our own WeChat public account, which offers special discounts for reservations," said Lingham.
Currently, Frasers Hospitality has an established presence in China with 14 properties across key cities such as Beijing, Chengdu, Guangzhou, Nanjing, Shanghai, Shenzhen, Suzhou, Tianjin, Wuhan, and Wuxi.
There will be 16 new properties in China over the next few years. This will bring the portfolio in China to 30 properties with more than 7,000 apartments located in Changsha, Dalian, Hefei, Nanchang, Shenzhen, Suzhou, Tianjin, Wuxi, Xiamen, Chengdu and Shanghai.