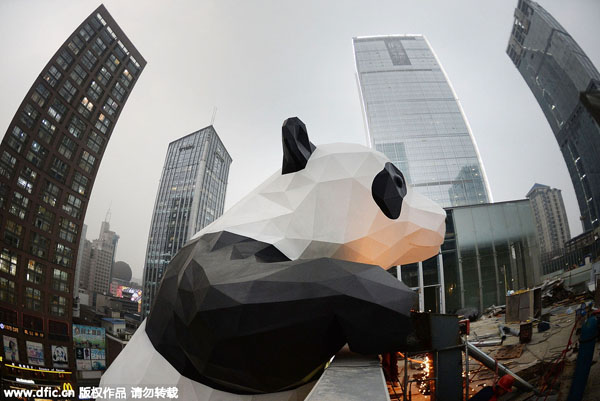 A giant panda-shaped art installation on the facade of the Chengdu IFS shopping mall in Chengdu city, Southwest China's Sichuan province, Dec 23, 2013. [Photo/IC]
Chengdu, the provincial capital of Sichuan, has topped an economic study of best-performing cities in China, while seven cities in eastern China's Jiangsu province made the top 10 list of lower-tier sites.
Compiled by the independent United States think-tank Milken Institute, the rankings were based on a mix of economic conditions in 266 cities across China.
The 34 first-and second-tier cities and 232 third-tier sites were measured predominantly on employment levels, wage rises, regional gross domestic product, and levels of foreign direct investment.
Surprisingly, Beijing failed even to make the top 10 of first-tier cities, which Milken's Managing Director of Research Perry Wong said was because of its already-large economic base figure.
"If it had wanted to rank on the list, it would have to have achieved more significant economic growth than other cities."
Chengdu ranked ahead of Shanghai in second overall place, with Shenzhen, Guangdong province, ranked a lowly 10th on the main top-tier list.
Jiangsu's Suzhou ranked first on the third-tier cities group, among seven from the province, all of which are in the Yangtze River Delta economic zone.
Milken said they were all so highly ranked because they benefitted from a geological proximity to Shanghai, large qualified workforces, and having made major progress in key economic sectors including science and technology.
"Years ago, a number of investors chose to invest in Jiangsu province instead of Shanghai due to the fact it was cheaper to operate there than in the giant coastal city," said Wong.
"The fully developed infrastructure in the Yangtze River Delta area also helped to contribute to the dominant position of cities from Jiangsu on the list," said Wong.
Li Xunlei, chief economist at Haitong Securities Co Ltd, said: "Jiangsu's convenient and improved transportation system also helps to promote more balanced economic development among its cities, making it take up more places on the list."
The other three cities on the third-tier top 10 are further inland: Qingyang in Gansu province, Ji'an in Jiangxi province, and Yichang in Hubei province.