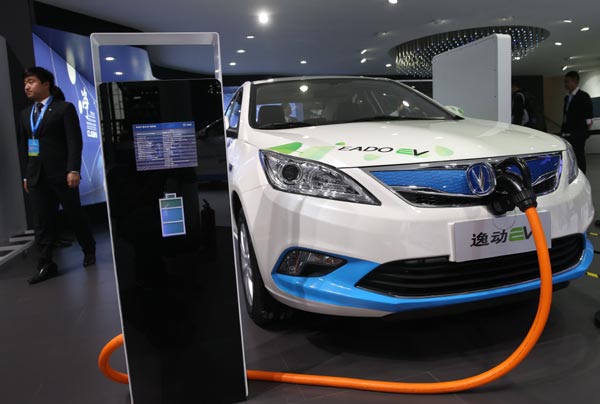 A Chang'an electronic car, one of the domestic brands, on display at the Shanghai auto show. Domestic automakers unveiled 51 vehicles, nearly a half of the new-energy cars at the event. The sector is becoming extremely competitive in the China with foreign players snatching the lion's share of the market. [Photo/China Daily]
BEIJING - Despite downward pressure, China's economic outlook remains bright thanks to continuing pro-growth policies and improvement in economic structure, a Chinese economist said.
"It can be expected that the economy will hold steady in the fourth quarter of the year," said Pan Jiancheng, deputy director of the China Economic Monitoring and Analysis Center under the National Bureau of Statistics.
Pan cited positive factors including monetary easing rolled out by the central bank and major construction projects approved by economic planner.
In its latest easing measures to prop up growth, the People's Bank of China cut the benchmark interest rates and lowered the reserve requirement ratio (RRR) on Oct 23, marking the sixth rate cut since last year and the fifth RRR cut in the past nine months.
In the latter half of the year, the National Development and Reform Commission approved a series of infrastructure projects, including high-speed railways, airports and housing renovation in central and western regions.
Pan said recent weak oil prices also served as a boon to down-stream industries, reducing burdens for companies in oil refining, chemicals, medicine and chemical fiber.
The Chinese economy expanded 6.9 percent year on year in the first three quarters, marking a six-year low and the first time the quarterly growth rate has dropped under 7 percent since the second quarter of 2009.
Although growth was down, China, the world's second largest economy, still led the world in terms of growth pace and saw stable employment, improving people's living standard, dropping energy consumption per unit of GDP, Pan said.
In addition, the economic structure continued to improve, Pan said. Domestic consumption continues to be robust and investment into infrastructure, high-tech and service sectors is on the rise. While traditional industries are falling, modern tertiary sectors have started to make bigger contributions to the economy.
"While the economy is under pressure, new growth points never stop emerging," Pan said. "We should remain confident about the future prospects."
A recent survey showed Chinese businesses are showing growing optimism on the economy.
The MNI China Business Sentiment, an advanced indicator compiled by capital market news website Market News International (MNI), jumped 8.4 percent month on month in October to 55.6, recovering from a sharp decline in September.