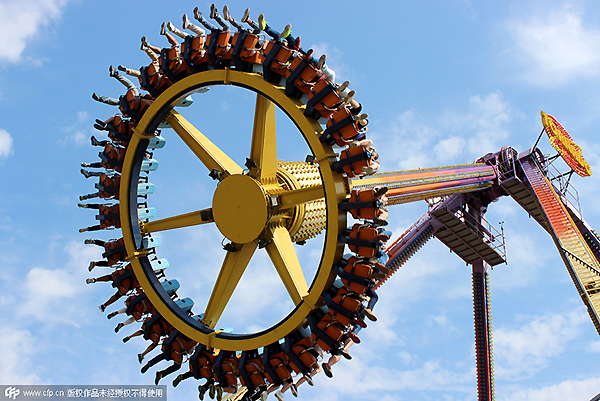 Tourists play at a park in Suzhou, East China's Jiangsu province, Oct 3, 2015. Ticket receipts at major attractions stood at 1.59 billion yuan during the National Day Holiday from Oct 1 to Oct 7. [Photo/CFP]
BEIJING -- China's factory activity held steady in October as the country's manufacturing sector saw improved but still weak demand, official data showed Sunday.
The official manufacturing purchasing managers' index (PMI) came in at 49.8 in October, the same pace as in previous month and lagging market expectations of 50.0, according to data released by the National Bureau of Statistics and the China Federation of Logistics and Purchasing.
Growth in the country's services industry cooled, as the PIM for the non-manufacturing sector fell to 53.1 in October, 0.3 percentage point down from September.
The activity reading, while still robust, is the lowest since the depths of global financial crisis. A reading above 50 points indicates an expansion in activity on a monthly basis, while one below that points to a contraction.
Non-manufacturing PMI tracks business activities of the service and construction industries.
The services sector has accounted for the bigger part of China's economic output for at least two years, with its share rising to 48.2 percent last year, compared with the 42.6 percent contribution from manufacturing and construction.
Data last week showed China's second-largest economy grew 6.9 percent between July and September from a year earlier, dipping below 7 percent for the first time since the global financial crisis.
To shore up growth, the government has cut interest rates six times since November and lowered the amount of cash that banks must hold as reserves four times this year. The latest cut in interest rates and banks' reserve requirement came in late October.