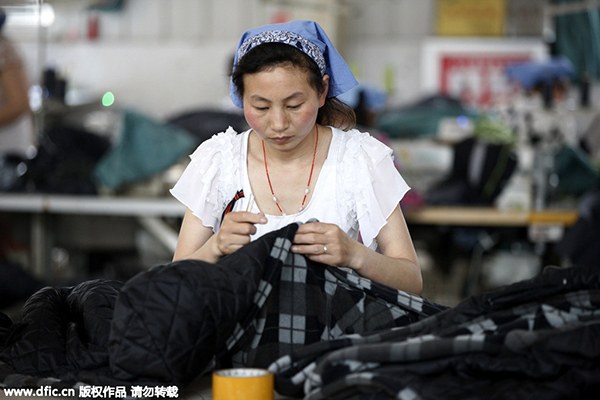 A female Chinese worker sews clothes at a garment factory in Huaibei city, East China's Anhui province, June 1, 2015. [Photo/IC]
China should eye a realistic GDP growth rate in 2016-20, with one below 6.5 percent being the most appropriate, said a leading economist.
Lu Ting, chief economist with Nanjing-based Huatai Securities, and former Head of Greater China Economics with Bank of America-Merrill Lynch, said China's growth rate is to grind to a halt over the next decade: by then the economy would expand at an annual rate between 4 to 5 percent, or even at 4 percent, like most emerging markets.
"It is politically difficult to adjust the growth rate target during the 13th Five-year Plan period to below 6 percent. Ideally I would suggest a target below 6 percent, or it might be better to put it within a range, instead of a fixed number," he told China Daily at the sidelines of the 2015 Financial Elite Summit held Thursday in Beijing.
His estimation is based on two fundamentals: the rapidly aging population, and the dwindling return on investment. By the end of last year, the Chinese population who were 14 years old or younger accounted for 16.5 percent of the total population, a ratio even lower than some advanced economies.
"A slowdown is a mega-trend, no matter what monetary and fiscal policy is. A rebound (from the current 6.9 percent)is not unlikely, but could be a flash in the pan," he said.
Commenting on the yuan's value, he said he did not buy the speculation that the currency will experience a major fall after its possible inclusion into the International Monetary Fund's reserve currency basket in Nov. The goal is two-sided flexibility, not one-sided depreciation.
"For IMF officials, the stable value of its reserve currency is not their goal. What they want is a flexible foreign exchange regime, in which the market plays the main role," he said.