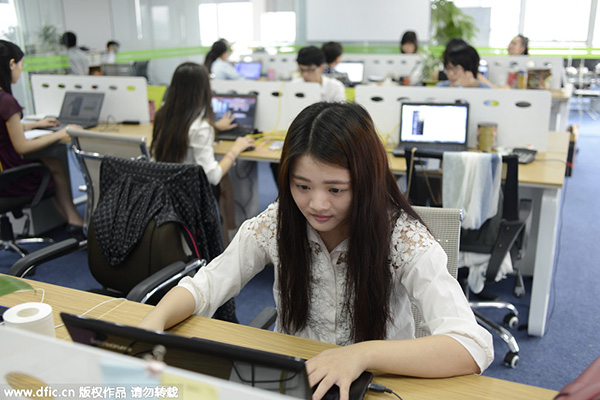 Employees work at a firm in Shenzhen, South China's Guangdong province, Aug 20, 2015. [Photo/IC]
BEIJING - Office workers in China are packed into floorspace more than twice as tightly as their US and European counterparts, stressing them out and limiting their productivity, a new report has warned.
The density of desks in offices in the mainland and Hong Kong has roughly doubled over the past decade, meaning that any given office now contains about twice as many workspaces as it did 10 years ago. The average space per desk has shrunk from 100 square feet (9.29 square meters) to 50 to 60 sq. ft. (roughly the size of a table tennis table) each, according to research by CBRE, a commercial real estate services firm.
Density norms in the United States and Europe are around 150 to 200 sq. ft. per desk.
CBRE believes that giving office workers anything less than 60 sq. ft. puts their productivity at risk. Tightly packed desks lead to a lack of privacy, increased noise and distraction by neighbors.
"Benchmarking metrics, such as workplace density... are becoming more critical in helping corporate occupiers make informed workplace and real estate decisions, and manage their real estate as a strategic asset," said CBRE China executive Helmut Weih.