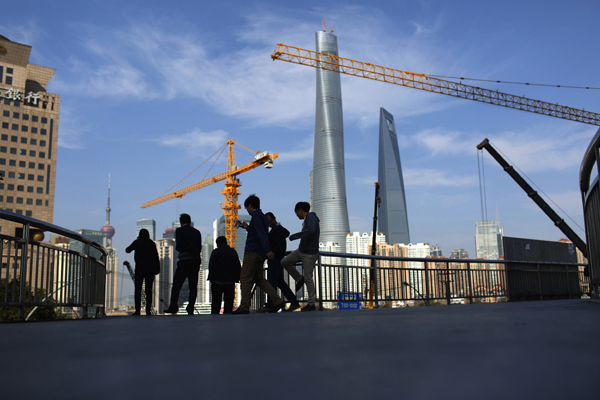 People walk on a bridge near the financial district of Pudong in Shanghai November 21, 2014. [Photo/Agencies]
China's cities, buoyed by growth in the central and western regions, remain one of the world's most dynamic real estate markets but require smarter growth going forward, said a report on Wednesday.
The China 60 report by international real estate service provider Jones Lang LaSalle assessed commercial real estate opportunities across 60 Chinese secondary and tertiary cities.
"The hype has subsided and the "build and they will come" approach is no longer a viable business model," said K.K. Fung, managing director of JLL Greater China. "Today's market requires stronger discipline and much more robust planning and decision-making."
Over the next few years, "city brand-building" based on quality of life, cultural assets and environmental considerations will come to the fore as these cities compete for talent and businesses, said Fung.
The group of 60 consists of the world's 10 fastest growing cities, and collectively will account for 15 percent of global growth by 2025.
Since the report was last conducted in 2012, western and central cities, such as Xi'an, Guiyang, Kunming and Zhengzhou, have shown the greatest progress. This reflects a combination of government policy, infrastructure investment and the continued shift inland in the balance of economic activity, the report said.
Another positive aspect has been the rapid evolution of mega city-regions in China's densely populated areas.
Jeremy Kelly, director of global research at JLL, said, "The rise of mega city-regions is adding a new complexity to China's urbanization. Satellite cities in the Yangtze River Delta region, in particular, have shown remarkable growth, thanks to dynamic private enterprises, advanced supply chains, and strong intra-regional connectivity."
While the Yangtze River Delta has made the greatest real estate progress, the Pearl River Delta and the government's plan to integrate Beijing, Tianjin and Hebei are also well positioned for future advancement.
However, with the sector's rapid growth since 2012 there has been a marked shift from limited supply to oversupply of commercial real estate in the 60 cities. This is expected to continue in the short term but with increasing high-value activities, the growth of the consumer classes and the huge expansion of domestic private enterprises, the prospects for larger cities are strong.
"The macro fundamentals to deliver ongoing strong demand for all major commercial real estate sectors over the next few years are evident, and China has tremendous capacity to absorb any excess space over the medium term," said Kelly.
JLL estimates that China's top 20 cities will require nearly 80 million square metres of Grade A office space by 2025 from the existing built stock of 32 million square meters.