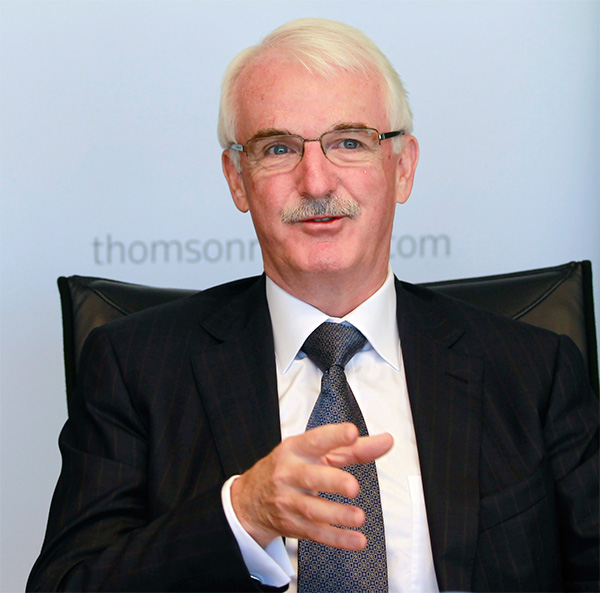 Gerald Lawless, chief executive officer of Jumeirah Group. [Photo/Agencies]
China is an "extremely important" market for Dubai-based luxury hotel chain Jumeirah Group as the number of wealthy Chinese consumers and international tourists is growing, President and CEO Gerald Lawless said.
Domestic tourism in China will grow significantly in the coming years and will also attract more foreign visitors, creating a huge demand for luxury hotels in the country, Lawless said.
On the other hand, China is also an important source market for Jumeirah Group, as higher awareness of the brand in China will probably make the Chinese guests choose to stay in Jumeirah hotels overseas, he said, adding the group has benefited from that, particularly in Dubai.
Jumeirah Group attracted global headlines in 1999 with the launch of the Burj Al Arab, an iconic symbol of Dubai. The colossal sail-shaped hotel is very popular among Chinese visitors, who account for more than 70 percent of the room nights sold during the week-long National Day holiday and the Chinese New Year, he said.
As to the overall room nights sold for all the Jumeirah hotels around the world, Chinese guests currently account for about 7 percent, up from 3 percent four years ago. "So it is doubling every couple of years," he said.
Lawless expected the Chinese percentage would rise to about 10-20 percent in the next few years. The United Kingdom, with 15.2 percent, is the group's largest single source market.
There were more than 100 million outbound Chinese tourists last year, according to official figures.
Meanwhile, China's tourism expenditure has also seen an unprecedented increase, with the Chinese visitors having spent $162 billion overseas in 2014.
"The potential for more and more visitors coming from China is great," Lawless said. "What we see from the research we have, the spending per head from the Chinese continues to go up."
"People talk of a downturn in China, but I keep reminding them that there is only a slowdown in the rate of growth and it is still growing," he said.
He added that the Chinese would have more disposable incomes as there are more jobs and the economy is strong.
The 63-year-old hotelier, who joined the company upon its foundation in 1997, has helped Jumeirah Group establish 23 luxury hotels, resorts and residences worldwide.
A further 20 more hotels are under development, and almost half of them are located in China.
The Jumeirah Himalayas Hotel Shanghai opened in 2011 as Jumeirah's first hotel on the Chinese mainland.
The group now has a pipeline of eight hotels in Sanya, Haikou, Guangzhou, Wuhan, Nanjing, Hangzhou and Qiandaohu.
"In our listed cities where we desire to be in, Beijing, Shanghai and Hong Kong are high up there," Lawless said. "They are very important for us in our Chinese context."
He said Jumeirah Group would seize any opportunity to enter the hotel market in those cities, with a view to further implementing its ambitious expansion plan in China.