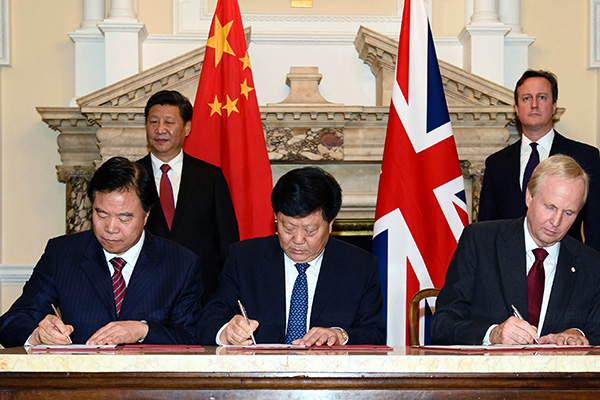 PetroChina Chairman Wang Yilin (left), China Huadian Corp Chairman Li Qingkui (center), and BP Plc Chief Executive Bob Dudley sign contracts at the UK-China Business Summit in Mansion House, central London, on Wednesday, the second day of President Xi Jinping's state visit to the United Kingdom. The UK and China signed a slew of big contracts including one for the building of the UK's first nuclear power plant in decades. [Photo/Agencies] 
Oil company to supply 1 million tons of LNG every year to Huadian
BP Plc, the United Kingdom oil giant, has signed a sale-and-purchase agreement to sell one million metric tons of liquefied natural gas annually to China Huadian Corp, the country's largest gas-fired power generator.
The deal, worth $10 billion over the next two decades, was among a host of initiatives signed in London in the presence of President Xi Jinping and British Prime Minister David Cameron.
"This marks another long-term LNG supply deal between BP and Chinese buyers, and it will play an important role in enhancing China's energy diversification and supporting its economic growth," said Bob Dudley, BP's group chief executive.
Dudley said the deal also "strengthens the connectivity of global gas markets", which is important for countries seeking more diversification to secure energy supplies.
A statement from BP said it means China will become the world's largest energy importer by 2035 with its energy production growing 47 percent and its consumption up 60 percent.
Li Qingkui, chairman of Huadian, said the agreement was "in line with the common objectives" of both companies, adding he expected further cooperation with BP to secure supplies and a cleaner energy structure in China.
Huadian has long-held ambitions to develop its LNG market, as China pushes toward cleaner sources of power in its energy mix.
Li Li, research director at ICIS C1 Energy, said the BP deal will not only help Huadian gain a stable supply of LNG, but also extend its position in the upstream gas market.
Huadian is one of China's five largest State-owned power generation companies and the country's largest gas-fired power generator.
In 2013, it announced a 60 billion yuan ($9.44 billion) investment in a 12 million-metric ton LNG-receiving terminal in Jiangmen, Guangdong province.
Last year, in partnership with China Petrochemical Corp, Asia's top refiner, Huadian agreed to buy a 15 percent stake in the Pacific Northwest LNG project, run by the Malaysian state-owned energy firm Petronas. Huadian will own 5 percent of the project, which is expected to generate more than 600,000 tons of LNG per year.