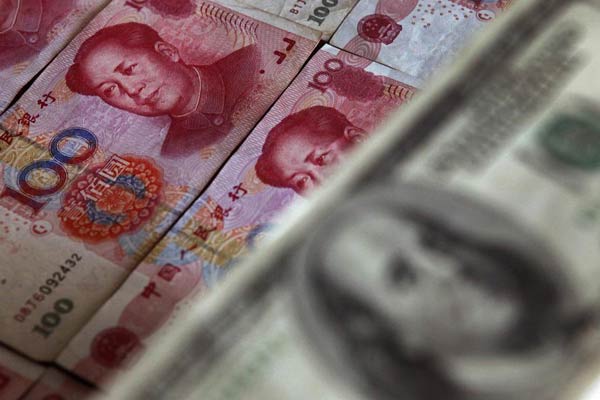 A photo illustration shows a $100 banknote placed above Chinese 100 yuan banknotes in Beijing in this May 10, 2013 file photo. [Photo/Agencies]
The Chinese yuan appreciated for the seventh consecutive day on Monday to 6.3406 per US dollar, hitting its highest level since Aug 12.
It is also the new high since the currency suddenly depreciated by more than 4 percent against the US dollar in August, as the central bank let the market decide the daily reference exchange rate. Lian Ping, chief economist at the Bank of Communications, said investors' expectation on the yuan's depreciation is weaker, because the central bank's reform is accepted by the market and the US Federal Reserve's decision to hold on the rate hike has released desperation pressure.
"The People's Bank of China's intervention in the foreign exchange market to stabilize the yuan's value also took effect," Lian said.
The seven-day appreciation began on Sept 24, when the PBOC set the reference exchange rate at 6.3791 per US dollar. The reference rate rose to 6.3493 per dollar on Friday. As the Chinese economy is still under the pressure of a slowdown, and capital outflows may remain high in the near future, the yuan is likely to depreciate moderately, economists said. A stronger yuan will help to facilitate the country's reform to internationalize the currency, especially to become one of the world's reserve currencies, they said.
The global transaction service provider SWIFT reported Tuesday that in August the yuan surpassed the Japanese yen to become the world's fourth largest payment currency. Yuan-denominated payments accounted for 2.79 percent of the global market by August, expanded from 1.39 percent in January of 2014, according to the company.