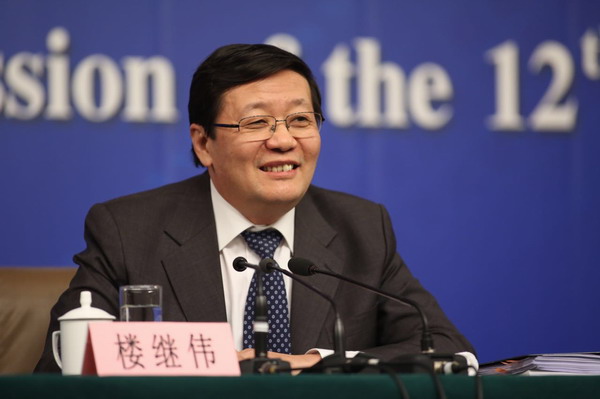 China's Minister of Finance Lou Jiwei takes questions from journalists at a news conference during the ongoing two sessions in Beijing, March 6, 2015. [Wang Jing / chinadaily.com.cn]
There are mainly two reasons that the growth rate of China will enter the 7 percent period, Chinese Finance Minister Lou Jiewei said in the joint statement.
Firstly, the rapid growth rate which keeps 9-10 percent in the past and highly depends on the stimulation of policy is not sustainable, and is over the potential growth rate of China which lead to over capacity and mass increase of inventory. It will take years to consume these over capacity and inventory.
The next 5 years will be a painful period for the reform of Chinese economy, and the main goals need to be achieved by 2020. China's economy will be mainly driven by consumption rather than investment and foreign trade during the reforming period, and this will not be an easy job to accomplish.
Secondly, China's economic cycle is different with the developed countries. Developed countries generally initiated the process of deleveraging after the global crisis, however, China initiated its leveraging process between 2009 and 2010 and achieved the 10 percent in growth rate.
The contribution rate to growth of global economy was as high as 50 percent above during that time. China now is initiating its process of deleveraging and the growth rate will down to 7 percent but still making 30 percent contribution rate to growth of global economy.
Lou stressed in the statement that there are some positive changes in Chinese economy despite the lower of growth rate, including the contribution rate to growth of consumption comes higher than that of investment, the proportion of service in GDP over passed industry, the proportion of trade surplus in GDP has been decreasing, 7 million new jobs was created in the first half year, the quality of economic growth keeps rising etc.
China will continue to implement a proactive fiscal policy and the increasing rate of central government spending is predicted to be 10 percent, which is higher than the 7 percent budget.
China is taking measures to plug fiscal gap to maintain moderate economic growth and support the structural reform, the statement added.
"The Chinese government will not pay particular attention to a seasonal short term economic fluctuation, and will keep the stability of macroeconomic policies," Lou pointed out in the statement.
China has achieved a 7 percent growth despite the decreasing of demographic dividend and falling on rate of capital return.
The huge potential of Chinese economy lies in reform and China is unswervingly promote reform and opening up in accordance with the established plan.
"G20 financial ministers and central bank governors have talked about the economy problems in China and we are not pessimistic about China keeping the 7 percent growth rate in the future,' Deputy Prime Minister of Turkey Cevdet Yilmaz said in the press conference Saturday in Ankara.