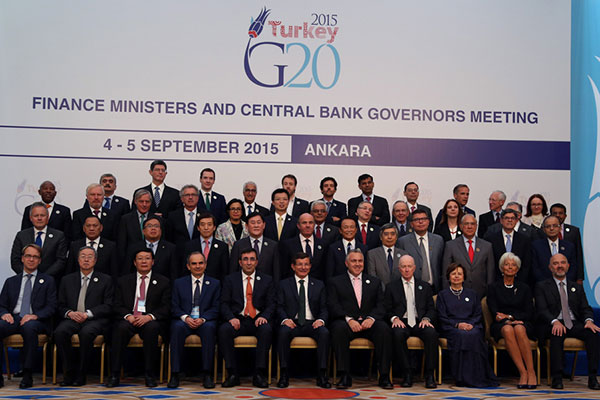 Finance and labour ministers gather for a group photo of the G20 Joint Meeting of Finance and Labour Ministers in Ankara, Turkey, September 4, 2015.[Photo/IC]
ANKARA - The Chinese economy has entered a "new normal" status and the growth rate of economy is predicted to be around 7 percent in the coming 4 to 5 years, said Chinese Finance Minister Lou Jiwei on Saturday.
Lou said it in a written statement after the 2-day G20 Finance Ministers and Central Bank Governors Meeting in Ankara Turkey.
Zhou Xiaochuan, People's Bank of China governor pointed out in the joint statement that there is no foundation that renminbi will keep devaluing for a long term.
Zhou Xiaochuan stated that the bubble in Chinese stock market keep increasing before June 2015. The Shanghai Composite Index has mounted up 70 percent from March to June.
China has been taking measures to prevent its economy from systematic risk including the PBOC providing liquidity to the market through multiple channels.
The measures taken by Chinese government has prevented the stock market from decline in precipice way and the occurrence of systematic risk.
According to the statement, since the August correction in stock market, the investors leverage in stock market has been going down significantly and the real economy has not been impacted.
The reform of the middle price quotation of yuan exchange rate mechanism on August 11 is an important step to the marketing reform of renminbi rate.
Renminbi was devalued for a certain degree after the reform, but the renminbi was overvalued for reasons like the value-up of US dollar, the generally value depreciate of currency in emerging market economies.
"But there is no substantial transformation in the real economy of China and large surplus still remains in the foreign trade of China, so there is no foundation that yuan will keep devaluing for a long term," Governor Zhou said in the statement.